Frauscher Innovation Centre Opens in Austria
Frauscher Sensor Technology celebrated the opening of the Frauscher Innovation Centre in St. Marienkirchen, Austria on 24 June 2016 with an opening ceremony that was attended by employees, guests and political and media representatives.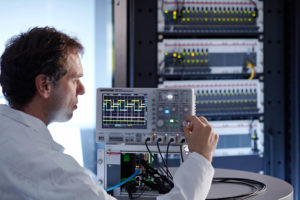 The Frauscher Innovation Centre will house 75 workplaces. It will cater to product management, RAMS management and research and development, who have already moved into the new building. The centre has space for these departments to grow. The Centre will serve as an international platform for all of Frauscher's research and development activities.
The Centre boasts cutting-edge, innovative technology and equipment. Laid out over three floors, all of which are accessible and barrier free in order to create a modern and useful space. The second and third floor offices, which benefit from natural light, are ultra-modern in their setup and conditions, while the ground floor has space for cutting-edge laboratories and testing equipment. All of these render the Frauscher Innovation Centre a platform for Frauscher Sensor Technology's international research and development activities.
Michael Thiel, CEO Frauscher Sensor Technology, said:
"Inputs from our customers and subsidiaries as well as from universities and research institutions all over the globe will be gathered and evaluated here. This enables continuous product development regarding specific requirements of current markets as well as new ones – such as the USA, Malaysia or Algeria. This makes the opening of this Innovation Centre an important milestone in strengthening our position as international technology leader in railway signalling."
The aesthetic appearance of the building has been deliberately designed to be simple. Building services are intended to deliver optimum comfort and minimal use of energy.
Josef Frauscher, founder of Frauscher Sensor Technology and builder-owner of the Innovation Centre, said:
"All in all this building perfectly reflects Frauscher's philosophy of taking responsibility towards customers, employees and environment."
The sleek atrium of the Frauscher Innovation Centre provided an ideal setting for the speeches from guests of honour, and a blessing of the building, at the opening ceremony. The celebration coincided with guided tours of the centre, and the rest of the day was spent enjoying the annual Frauscher summer festival.