United States: the first new six-car train for Boston's Orange Line entered service at Wellington Station on 14 August 2019. These six cars are the first of 152 cars that are on order for the line. They are to replace the entire current fleet, which consists of 120 cars. Once all 152 cars are in service, the MBTA Orange Line will be able to transport an additional 30,000 riders every day.
Stephanie Pollack, MassDOT Secretary and CEO, Steve Poftak, MBTA General Manager, and Massachusetts Governor Charlie Baker all attended the ceremonious introduction.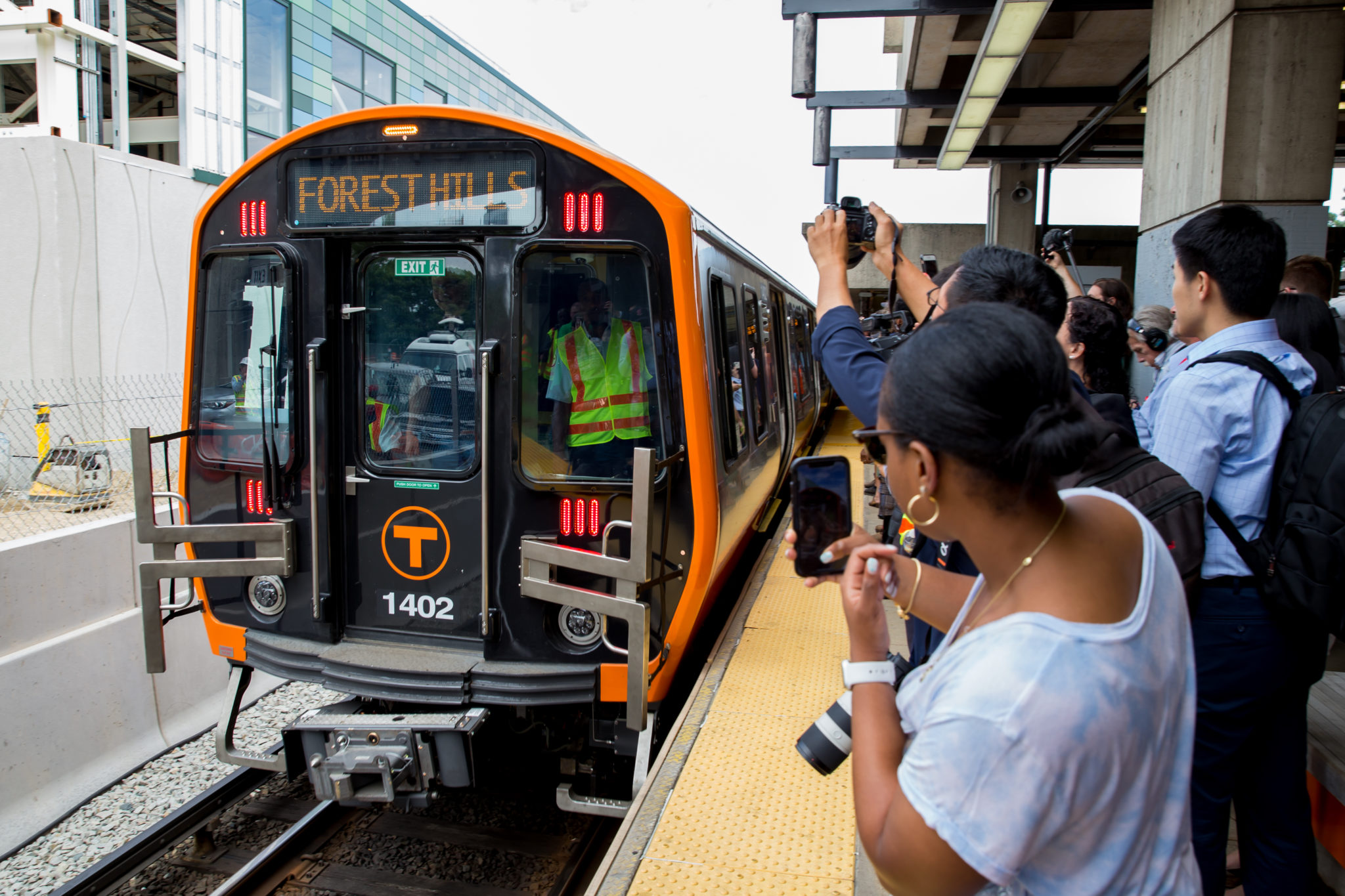 New MBTA Orange Line Trains
Chinese company CRRC won the contract to design and build the new 152 Orange Line cars in 2014. CRRC also holds the contract to design and build 252 new Red Line cars. The total value of these rolling stock contracts is in the region of 1 billion USD (900 million euros).
The new Orange Line fleet will be more reliable and easier to maintain. There will also be improvements to the trains' safety, communications and comfort features. For example, the interiors will be more spacious. The cars will be equipped with LED lighting, automatic passenger counters, a CCTV system, and on-board diagnostic tools.
Furthermore, the trains will be more accessible to passengers. The doors of the new trains will be wider and the trains will have 'gap mitigation devices' as well as a greater number of emergency intercoms, more handrails and modern audio and visual passenger information.
CRRC is assembling and testing all the cars at its site in Springfield, Massachusetts. Following that phase, they are sent for testing at the Wellington Yard and Maintenance Facility.
MBTA says the second train will enter service this autumn and all the remaining vehicles should enter passenger service between then and 2022.
Orange Line Upgrades
The new rolling stock for the Orange Line is part of a 5-year investment programme that will see the Orange Line be completely rebuilt. The upgrade works will improve the infrastructure and signals on the line. Consequently, the new fleet will be able to operate at a reduced headway of 4.5 minutes. The current headway is 6 minutes. Effectively, this is a 25 percent improvement.
The signals on the current Orange Line are analogue. The new ones will be digital. These have the advantage or requiring less manual labour and maintenance. Digital signals also allow for more effective diagnostics.
Stephanie Pollack said:
"The job of the transportation system is to move people. When the entire Orange Line fleet is replaced, it will be able to carry more passengers per hour than ever before, there will be shorter times between trains, and customers will have more confidence that they can depend on public transportation system to get them where they need to go. In the words of the Governor's Commission on the Future of Transportation, 'Our duty is to build and nurture a reliable, sustainable, well-maintained, and financed multi-modal mobility system for the future' and this new Orange Line train puts us on that path."
Lt. Governor Karyn Polito said:
"The new cars will provide Orange Line customers with a more comfortable and accessible ride, improving customer experience. We are excited to see these cars start to go into service, and our administration will continue working with the MBTA to make signal and infrastructure upgrades to support the new vehicles."
Also read: