First High-Speed Train for the Express Rail Link has Arrived in Hong Kong
The first of the nine high-speed trains for the Hong Kong Section of the Guangzhou- Shenzhen-Hong Kong Express Rail Link (XRL) project arrived in Hong Kong from Qingdao by sea, having completed production and extensive testing.
With a sleek exterior design and stylish interior design, the new trains also featured a range of diversified facilities on board to provide passengers with comfortable and convenient journeys.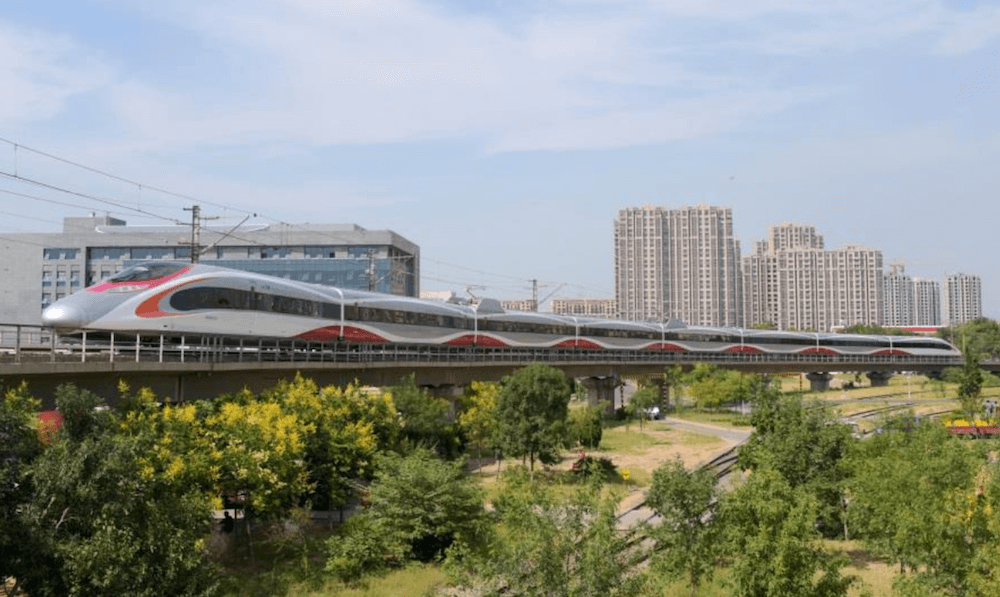 The nine eight-carriage XRL trains are manufactured by CRRC Qingdao Sifang Co., Ltd. (Qingdao Sifang) with a design based on the CRH380A model and facilitate the operation at the Hong Kong section. To ensure high performance, stringent standards on safety and quality control have been enforced throughout the design and manufacturing stages.
Dr Philco Wong, Projects Director of the MTR Corporation, said: 
"During train production, MTR staff members have been stationed at the factory to closely monitor the production process including manufacturing, assembly and testing procedures. A range of monitoring measures and independent expert assessments are conducted throughout the process. With decades of expertise and experience accumulated in train production and quality management, our system and working are to ensure that both the materials and production quality are commensurate with international safety standards and national regulations."
Before shipment from Qingdao, the first high-speed train for the XRL underwent comprehensive factory testing and inspection before completing dynamic tests (such as pantograph function, traction and braking system, train-borne signalling system and aerodynamic, etc.) on the operating line of the Shanghai to Kunming High-speed Railway over a total distance of more than 5,000 kilometres.
Upon the arrival in Hong Kong, the train will be delivered to the Shek Kong Stabling Sidings by road transport. The train will first undergo assembly and testing, followed by multiple static tests and low-speed dynamic tests. These will be followed by dynamic testing on the 16-km pilot test section between Shek Kong Emergency Rescue Siding and Mongkok West Ventilation Building.
Before the commencement of service, trains still have to go through a range of tests, including System Integration Tests and On-site Tests. The Electrical and Mechanical Services Department and relevant government departments, as well as the Independent Safety Assessor appointed by the Corporation, will monitor the tests to ensure trains meet the required international safety standards.
The XRL project is progressing as planned with around 82% completion. The Corporation will continue closely monitoring the progress and making every endeavour to achieve the target of delivering the Express Rail Link for passenger service in Q3 2018.
Please click here for the original article along with further information.