The 50th 12-car ICE 4 train has been delivered to Deutsche Bahn and has been given the name 'Metropole Ruhr' following a radio competition.
The naming ceremony took place at Dusseldorf Central Station and was attended by Ronald Pofalla, Head of Infrastructure at DB, Hendrik Wüst, NRW's transport minister, Michael Peterson, Head of Long-Distance Services at DB, and Michael Peter, CEO of Siemens Mobility.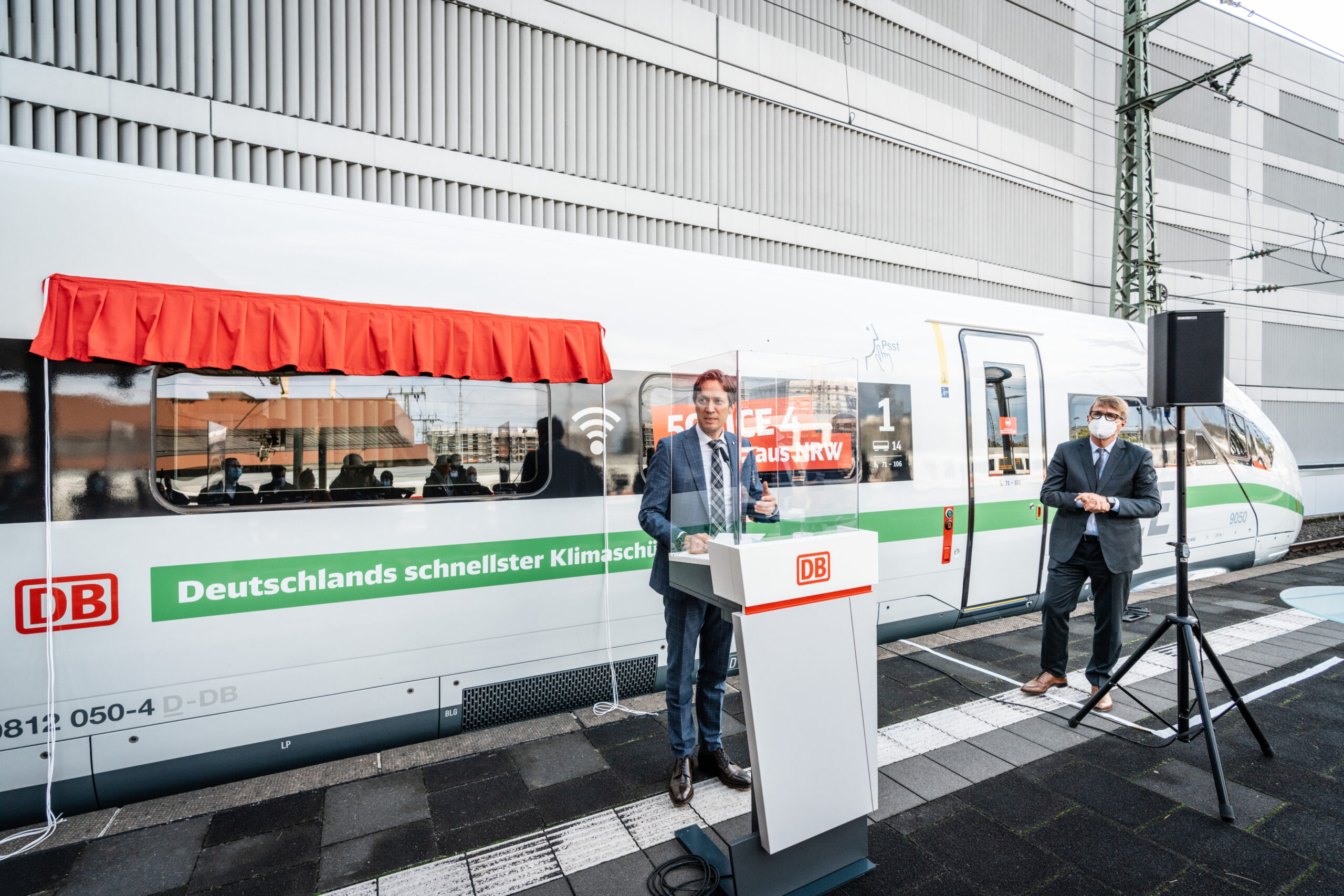 The first 50 ICE 4 trains are now in service. The 12-car trainsets are 346m long and have 830 seats. Each unit has six powercars.
DB has been adding a new ICE 4 train to its long-distance fleet every three weeks. This will have added 13,000 additional seats to Deutsche Bahn's services. Overall, DB is investing 8.3 billion euros into the expansion of its long-distance fleet.
"The ICE 4 trains are the most modern trains on Germany's rail network – and they are made in NRW. They are manufactured in North-Rhine Westphalia and put into service here. We're investing billions in our fleet and our infrastructure, thereby strengthening the economy of our most populous federal state. The ICE 'Metropole Ruhr' will do a worthy job representing North-Rhine Westphalia as it travels around."
Deutsche Bahn is getting a total of 137 ICE 4 trains – 50 12-car sets, 50 13-car sets and 37 7-car sets. Once the timetable change comes into effect in December, the 7-car sets will enter passenger service. They will run between Cologne and Berlin among other things. These trains will have 444 seats, 17 percent more than the trains currently operating those services. It will also be the first time that passengers will be able to take bicycles between the two cities.
Starting in 2021 then the 13-car 'XXL' ICE 4 trains will enter service. They will have 918 seats – that's the largest number of any ICE train to date and five times the number in a short-haul aircraft. These trains will operate on particularly popular routes, such as on the high-speed line between Cologne and southern Germany. To ensure that the 12-car and 13-car trains are punctual, their top speed will be increased from 250km/h to 265km/h.
The ICE 4 trains are manufactured by Siemens Mobility and Bombardier Transportation.
"The ICE 4 is a success story at home in North-Rhine Westphalia and it is the largest contract in the history of Siemens Mobility. The special thing about the ICE 4 is its flexibility: using five carriage types, a total of 24 different configurations are possible. This concept ensures that capacity is always available where it is needed."
Also read: