DMRC Tunnelling Breakthrough in Delhi
The Delhi Metro Rail Corporation Ltd. (DMRC) celebrated a tunnelling breakthrough on Phase III of the Delhi Metro project in South West Delhi. The breakthrough occurred on the Dwarka – Najafgarh corridor, which will be Line 9. Dr. Mangu Singh, Managing Director of DMRC, was present for the occasion.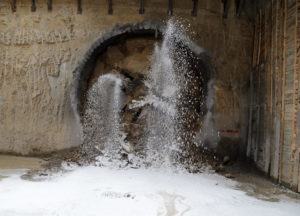 The 400 metric ton Tunnel Boring Machine (TBM) broke through at Najafgarh retrieval shaft near Tura Mandi site after boring a 0.67km long tunnel from the site located near Sai Baba Mandir of Najafgarh. It is at this point that the elevated alignment from the direction of Dwarka moves underground via a ramp.
Tunnelling began on 9 November 2015, and runs at a depth of between 6.1m and 10.5m below ground level. The engineering achievement for DMRC is significant, as works were undertaken beneath West Delhi, which is notably congested and required a number of utility diversions before the TBMs could begin operating. In this corridor, two tunnels will be bored, and this is the first of those two tunnels.
The total length of the corridor is 4.4km, of which 2.76km is elevated and 1.55km is underground. Najafgarh will be the only underground station, while the two other stations on the corridor, Dwarka and Nangli, will be elevated. Dwarka will act as an interchange station.
Delhi Metro
Delhi Metro is the 12th largest metro system for both length and number of stations, with 213km of line and 160 stations. It has a ridership of 2.4 million passengers a year. The Phase III extensions will deliver two new lines and 10 route extensions. Works have used 20 TBMs working simultaneously. It is due to be completed this year, and will bring ridership up to four million passengers and ease car congestion in the city. It is anticipated, however, that by the time Phase III is completed, Phase IV, comprising further extensions, will already be necessary.