Discover Intel's Smart Train Collision Avoidance System
Intel and its global ecosystem of partners have developed a Train Collision Avoidance System (TCAS) solution. This safety system for trains and wayside maintenance vehicles offers advanced obstacle monitoring and detection of rail tracks and surrounding environments for potentially hazardous situations. Using a combination of sensors, like Artificial Intelligence (AI) and advanced software processing, the system can help accurately detect obstacles, alert train drivers and maintenance vehicles operators, and perform automated corrective actions.
This Intel-based system helps increase safety by creating better spatial awareness forward, to the side, and behind the train. TCAS can be used for mainline and urban rail networks, on trains of all types, and in all weather conditions. The solution is designed to prevent collisions by warning drivers of potential danger and providing an automated means to respond to hazardous situations.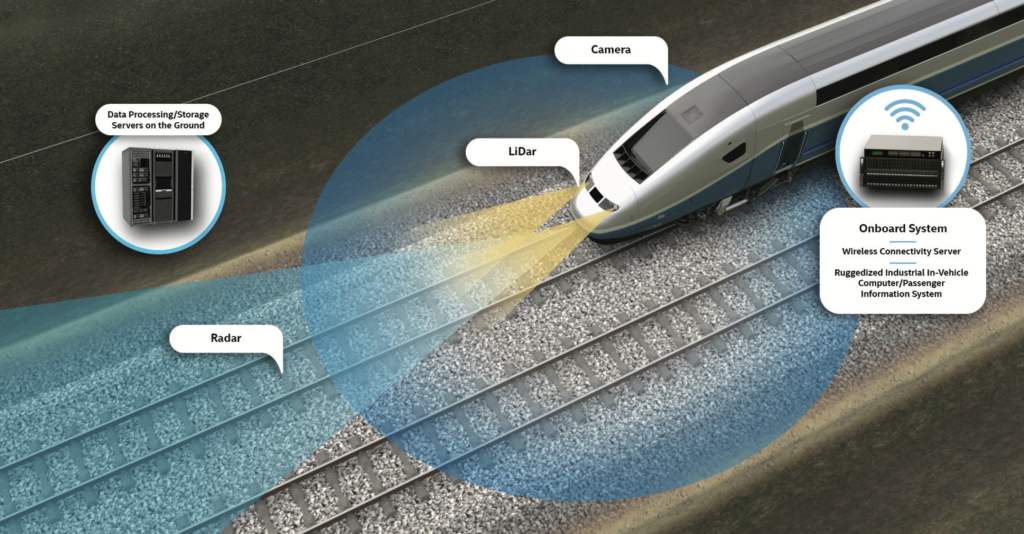 How the TCAS Solution Works
Train Collision Avoidance Systems collect and analyse data. This data is used to help understand their surrounding environment and trigger safety-based actions. TCAS integrates various sensors with processing software and actuators to help detect railway obstructions and conditions. Train mounted sensors send raw data to an onboard computing unit. Software processes and classifies the data, helping it to measure and position objects.
TCAS Deployment Scenarios
The benefits of TCAS are clear:
Enhanced safety for citizens, train operators, and maintenance staff
Reduction in collisions and their costly aftermaths
Reduced strain on railway operating budgets
This system uses Intel's end-to-end expertise in processors, and computing technologies to enable solutions for some of the world's most pressing challenges. TCAS is flexible and designed for deployments with two railway operator scenarios: 1. the train-mounted collision avoidance system and 2. Maintenance-of-Way (MoW) wayside solution.