World Class Technology and Service for Railway Systems: Digital Transformation for Lineside Assets
Do you want to transform the safety, performance and efficiency of your Railway Signalling Power Supplies system? Are you bidding for work in CP7 and want to differentiate your bids from the competition? If so, our CableGuardian system is here for you and delivering right now.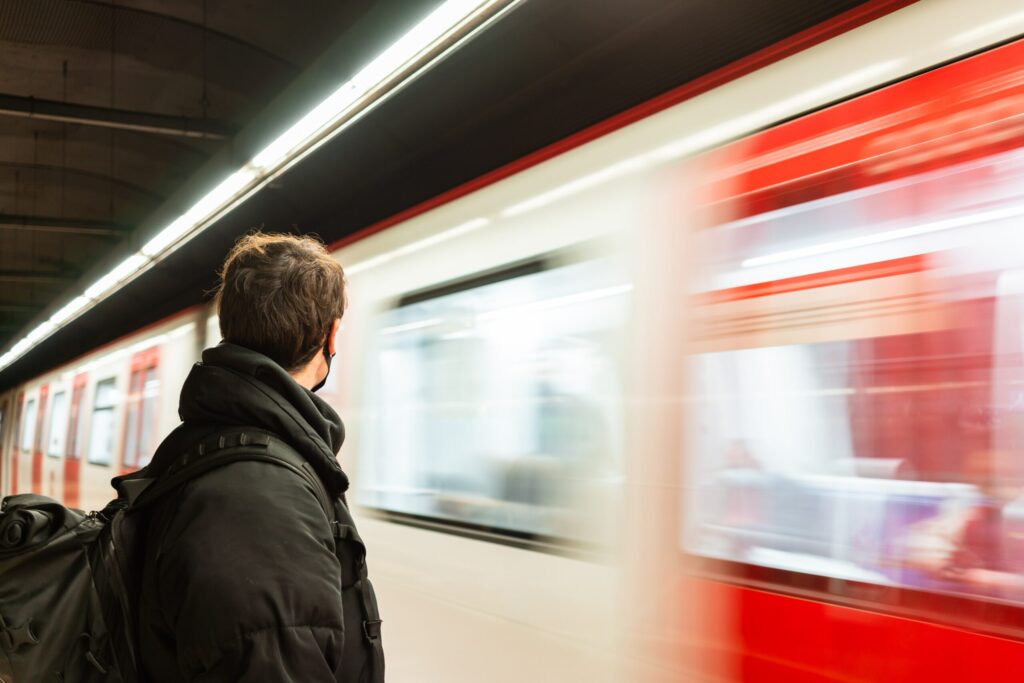 CableGuardian is setting the pace in technology, service and delivery for the UK rail network. It has consistently shown a way to reduce project costs and provide a real alternative to achieving the performance, reliability, availability, maintainability and safety targets without the eye-watering project costs that usually come with it. In the operational arena, CableGuardian has already made critical lineside safety improvements, saved tens of thousands of delay minutes and hundreds of thousands of pounds in direct benefits from the primary deployments of the system. We're spreading rapidly across the UK rail network and now it's time to spread the word.
The Benefits of Remote Condition Monitoring on Railway Signalling Power Systems
We are a digital technology company specialising in the monitoring and improvement of electrical assets by developing innovative products and services across a range of critical global industries. We have diversified from the oil & gas industry to railways after developing a very successful worldwide asset base in specialist systems for subsea cables since 2012. Working in a dynamic partnership with our clients in the UK rail network over a number of years, we developed, moulded and deployed our ground-breaking technology to monitor the widest range of parameters available on lineside railway signalling power assets. Turning data into information and insight, driving safety, performance and efficiency in your operational assets.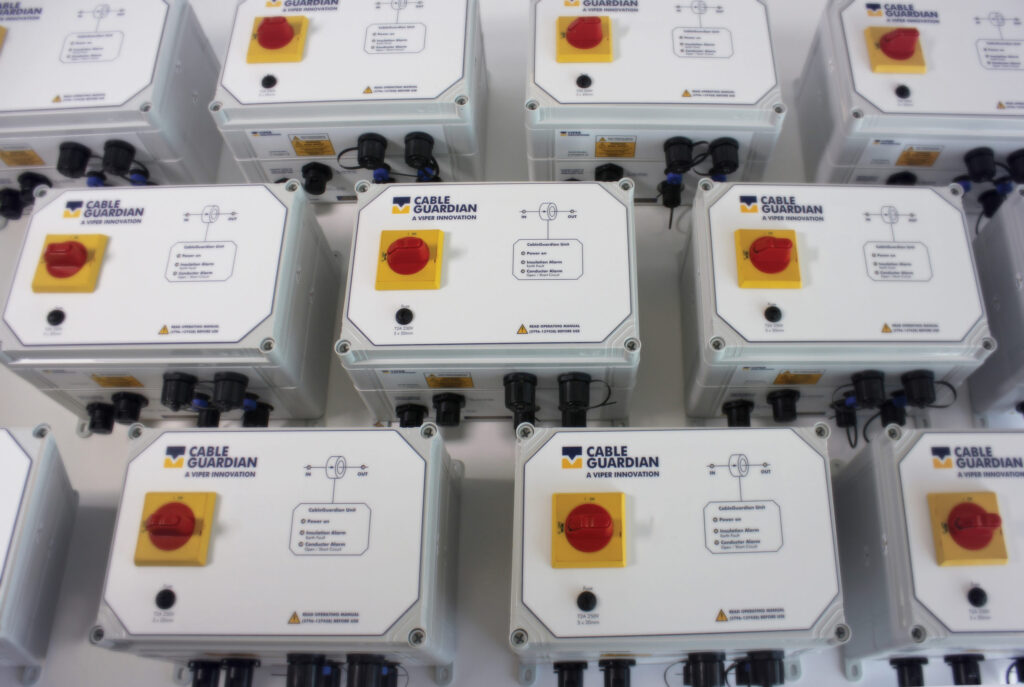 CableGuardian gives users unparalleled insights across the lifecycle of a system – covering transformers, switchgear and cables in all their shapes and sizes. Thereby allowing existing failure modes to be identified far earlier in the lifecycle and new failure modes to be recognised well before becoming a problem for the operational railway. In addition, we are driving the modernisation of working practices in partnership with those delivering the work to create even more business benefits from the technology by building the system into UK railway standards, removing the need to go trackside for a number of power system maintenance activities.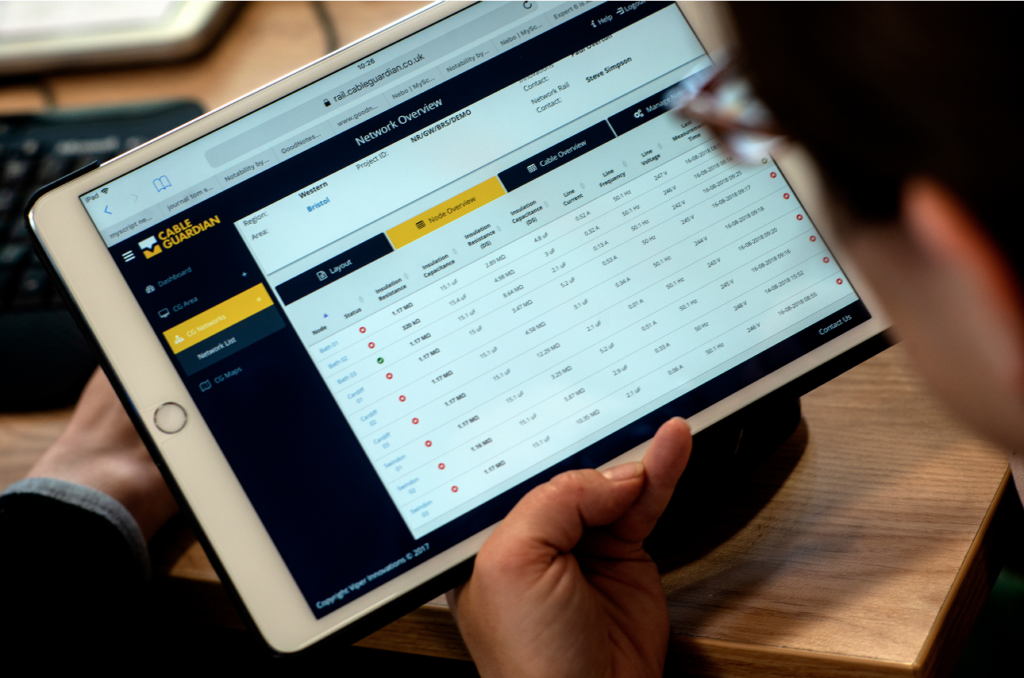 How CableGuardian Improves Railway Signalling Power Safety, Asset Management, Efficiency and Performance
CableGuardian, as a technology system and service, improves asset performance by continuously monitoring a combined and wide range of parameters, including insulation resistance from the gigaOhms to Ohms scale, insulation capacitance, voltage, current and volt drop to provide a complete and holistic view of your lineside power asset 24/7. The system incorporates Spread Spectrum Time Domain Reflectometry (SSTDR), which monitors live electrical systems to allow the location of conductor or connection degradation and damage to be pinpointed to either enable staff to act prior to complete failure, such as rodent damage, or to recover much more quickly post-incident from catastrophic damage such as cable theft.
In addition to the hardware, the railway system has a cloud-based data analysis and storage capability to enable the user to develop and characterise new asset insights. It contains mapping, graphing, and analysis tools to allow the user to compare and contrast the different parameters to gain new asset understanding and to build-in organisational learning for your specific assets. Additionally, it has the ability to characterise and create alarm and event thresholds to enable the system to chase the user when action is required. The additional insights that can be gained from CableGuardian not only allow you to change your maintenance practices to build in long-term efficiency, predict and prevent failures and identify safety issues before they become a problem. You will now also be able to manage your asset effectively across its entire lifecycle, moving to a true condition-based asset management regime that will save millions over the asset life.
Proactive Service and Collaboration, the Key Differentiator in Realising Benefits from Technology
The final piece in the jigsaw of enabling world-class asset management is our dedicated and proactive service. This is a real differentiator that bridges the gap from the deployment of effective technology to creation of business improvement – the much debated innovation chasm. We work proactively with you across the business, project and asset management lifecycle, from client concept development; bid support; project delivery management; Tier 1 project and supplier support; design house, installation, testing and commission contractor support; in-service transition and operations/maintenance support to overall asset management support.
This is to ensure that CableGuardian is integrated into your systems and business in the most advantageous and cost-effective way possible, supporting you from concept to in-service operation and beyond. This helps you to change your working practices, develop asset insights, benefit from shared experience with a wider user group and support your training, learning and development as you progress with your CableGuardian journey – squeezing every last ounce out of the asset.
If you want to make the move to true asset management, deliver world-class safety, performance and efficiency and upgrade to digitally-modernised maintenance, Viper Innovations and CableGuardian is your one-stop-shop for all your lineside railway signalling power asset management needs.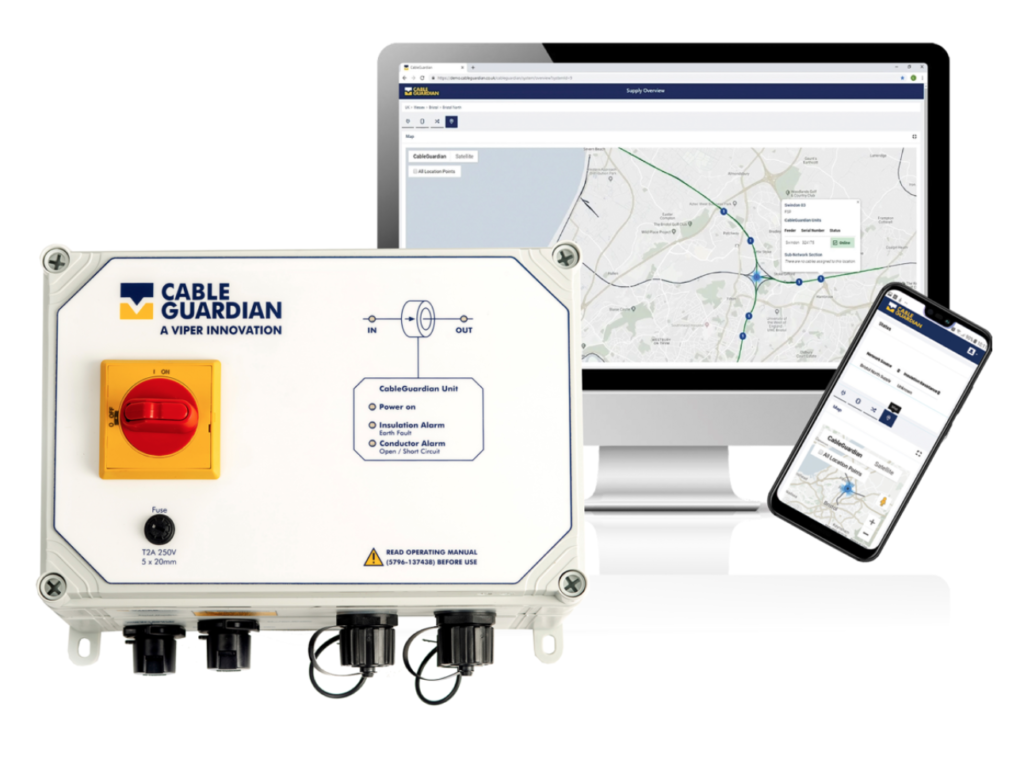 This article was originally published by Viper Innovations.