Testing of digital automatic coupling (DAC) for freight rail continues this month with trials by SBB Cargo in Switzerland.
This brings the sector closer to achieving its goal of replacing manual coupling with automatic coupling by 2030.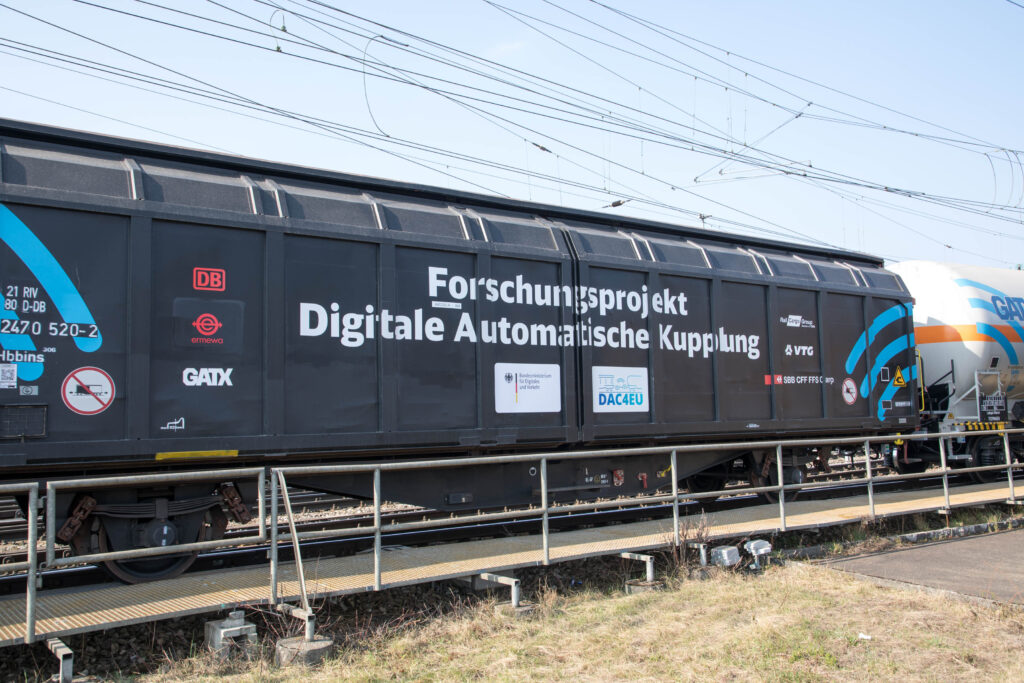 Freight rail must become more efficient and simpler in order to meet customer and market needs, get more goods on to the rails and therefore achieve the modal shift to meet climate targets across Europe.
Digitalisation can help in this, with the DAC laying the foundation for significantly faster and more efficient processes.
A comprehensive DAC testing programme began last October in Germany, moving into Austria and Switzerland. This is being managed by DAC4EU, a European consortium made up of Deutsche Bahn, OEBB Rail Cargo Group, DB Cargo, SBB Cargo, Ermewa, GATX Rail Europe and VTG.
The digital freight train – funded by the German Federal Ministry for Digital and Transport (BMVD) – is made up of 13 different freight cars in addition to a DB Systemtechnik measurement car, which are connected with DAC.
In addition to the mechanical and pneumatic connection, the electric coupling has a continuous power and data line. This enables data communication across the entire train combination.
SBB Cargo has been putting the test train through its paces on the Swiss network this month, traveling on the Gotthard axis. The assembly processes were played through intensively at Zurich Mülligen and Basel Kleinhünigen Hafen as well as in the Limmattal and Basel marshalling yards.
The findings from the tests will flow into the further development of the DAC.
In Switzerland, the Federal Office of Transport (BAV), the Association of Public Transport (VöV) and the Association of Shipping Companies (VAP) are behind this initiative.
Together with the rail freight companies and freight car owners, they're currently developing a consultation draft for political decision-making for the introduction and financing of the DAC in Swiss rail freight transport.