This Year at Railway Interchange 2017

17–20 September 2017
Indiana Convention Center, 100 S. Capitol Avenue, Indianapolis, IN, United States
Indiana Convention Center
Railway Interchange is the 'largest combined railway exhibition and technical conference in North America' and takes place in a major city in the US every two years.
In 2015, 42 countries were represented at the show, with 88% of them from the US. The show featured 687 exhibits – 652 inside and 35 outside – and had 9,571 registered visitors.
Exhibitors
Once again there are more than 600 exhibitors expected in 2017 who will be divided into three halls, depending on the categories the exhibitors' products and services fit into.
The blue halls (halls G–H), overseen by the Railway Supply Institute (RSI), the trade association for the rail supply industry, is for industry members working in the following areas:
Locomotive and freight car manufacturers
Tank car manufacturers
Mechanical systems and component suppliers
Railway measurement and maintenance systems
Rolling stock leasing services etc.
The red halls (halls I–K), overseen by the Railway Engineering Maintenance Suppliers Association (REMSA), which represents companies and individuals working in manufacturing and / or selling of maintenance-of-way equipment, is for these categories:
Track safety and inspection
Track and rail maintenance
Track machinery and tools
Track structure components and supplies
Non-track-bound products and services etc.
The green halls (halls D–F), overseen by Railway Systems Suppliers Inc. (RSSI), a trade association involved in the signalling and communications segment of the rail industry, is for suppliers who fit into these categories:
Communication systems
Signal systems
Information technology
Crossing components and systems
Wayside information systems
Power switches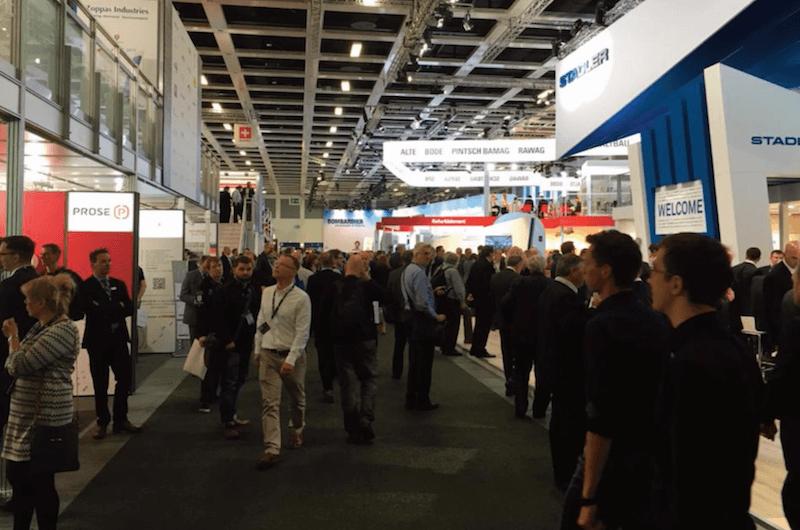 Education Programme
During the show there will also be an education programme, provided by AREMA, the American Railway Engineering and Maintenance-of-way Association, and by CMAs, Co-ordinated Mechanical Associations.
In addition to committee meetings running 16–21 September, AREMA will host a full programme throughout the show, with keynote speeches, five educational seminars and 80 technical presentations on a wide range of topics such as communications & signals, engineering and passenger & transit. The full schedule is available on the website and through the show's app (see below). AREMA are also kindly offering a spouse/guest programme, featuring a historical walking tour of Indianapolis for example.
The CMAs with event programmes for Railway Interchange 2017 are:
Air Brake Association(ABA)– Rooms 131 and 132
International Association of Railway Operating Officers (IAROO) – Rooms 131 and 132
Mechanical Association of Railcar Technical Services (MARTS) – Room 133
League of Railway Industry Women (LRIW) – Room 134
Locomotive Maintenance – Officers Association (LMOA) – Room 130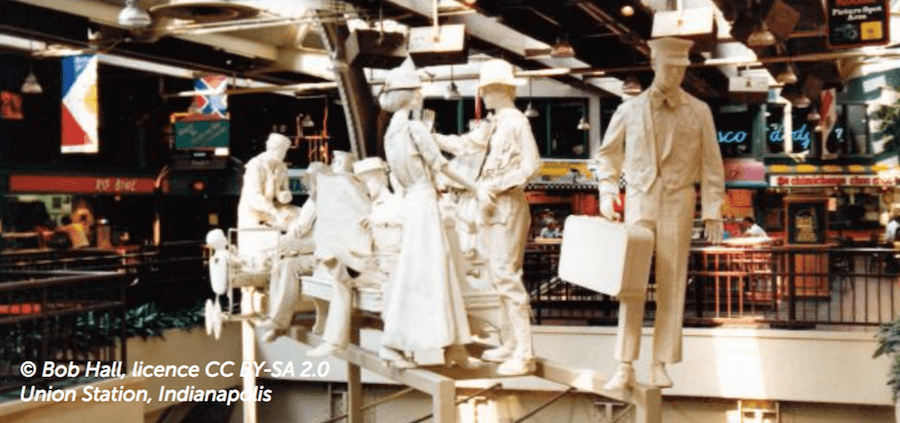 Find Your Way Around With the App
The website features a list of the exhibitors with their booth numbers, which are helpfully colour-coded (red, green, blue) to make it very easy for visitors to find their way around.
In addition Railway Interchange 2017 has a very neat little app to help you find your way around. You can search exhibitors alphabetically or by category and you can star those of particular interest to you. You can then use the 'map it' function to see exactly where a particular exhibitor is located and you can use this with a 'locate me' function (by entering a nearby booth number) so that you can see where you are in relation to the booth you're looking for.
There is a diary function where you can keep track of meetings you have scheduled for the show and a note function, allowing you to jot down important information while being able to see what supplier it relates to. Finally there is a simple 'visited' button you can tick to help you organise your day.
The full AREMA and CMAs schedule is also available on the app. Each event is listed with a time and location and has the useful diary, 'map it' and notes features mentioned above. The app allows users to search events by speakers. Many of them have already provided headshots, making it easier to recognize and spot them on the day. There is a separate list of just the keynote speakers for a useful overview of that segment.
The app includes a full set of maps of the halls and the entire exhibition centre so you won't feel lost, hopefully!
To round the whole thing off you'll be able to access information about things to do, dining and where to stay so that you'll have a well organized, stress-free Railway Interchange 2017!
FOR ALL THE LATEST INFORMATION, NEWS, IMAGES, VIDEOS AND ARTICLES ON ALL RAIL EVENTS, PLEASE CLICK HERE.