DB Trial Bodycams in Berlin Stations
Deutsche Bahn (DB) has announced a trial use of bodycams for its security staff at stations in Berlin. The trial is in response to the 950 DB employees who were attacked in the first six months of 2016, a 10 increase on the same period in 2015. Although serious injuries are uncommon, more than two-thirds of the attacks have involved security services. The move to employ bodycams comes hand in hand with further training for DB employees.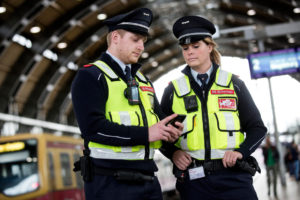 DB Security personnel wear the bodycams on their chests, which relay images live on the device's monitor. This means that an attacker can see himself during the incident. In conflict situations the security officers can store the footage at the push of a button.
In contrast to the video cameras located in stations, bodycams do not only serve to secure evidence in the case of offences, they are also intended to deter attackers. The pilot is planned to run until the end of the year at the Ostbahnhof, Alexanderplatz and Zoologischer Garten stations in Berlin.
If the technology proves worthwhile, other stations nationwide will roll out the technology. Bodycams can also be tested when football fans travel to matches and when large numbers of passengers are travelling to events such as festivals.
All relevant rules relating to data protection for customers and employees have been taken into account during the test phase. These strict rules reduce the extent of the video footage recorded, they secure encryption and ensure that only the police authorities are able to access the data. The bodycams do not record any sound. Employees wearing the bodycams identify themselves by wearing a tag reading 'video surveillance' ('Videoüberwachung').
Hans-Hilmar Rischke, DB Head of Security, said:
"We're trying to use all means possible to prevent attacks on our staff. We hope the bodycams will result in a decrease in violence against our employees."
Thomas Striethörster, the President of the Federal Police Directorate in Berlin, said:
"Since February 2016 the Federal Police has been testing the use of bodycams. The acceptance among officers, the positive interest in this technology among the population and successful preventive police operations all clearly favour bodycams."
Station and Staff Safety
There are 5000 federal police officers and 3700 DB security employees nationwide. This year DB will invest €160 million in keeping customers and employees safe. 700 stations in Germany are already fitted with around 5000 cameras. A further 27,000 cameras are installed on regional and suburban trains. By 2023 DB and the Federal Police will together spend 85 million into expanding video surveillance at stations.