Icomera Win DB Connectivity Contract
Germany: Icomera have won a contract from Deutsche Bahn (DB) to provide next generation internet connectivity to their fleet of high-speed, long-distance ICE (Intercity-Express) passenger trains operating in Germany. The contract relates to around 260 trains in the current ICE fleet, extending to an excess of 100 more being delivered over the coming years.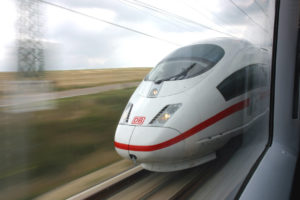 Work on DB's Fleet
Initial work will be carried on test trains this summer. The installation on the existing fleet is expected to be finished in 2016. DB's ICE trains will be fitted with an internet connectivity solution based on Icomera's X-Series open application and connectivity platform. These will support passenger wifi needs and keep customers connected on-board.
Icomera Wifi: Keeping Millions Connected
Icomera are a specialist in mobile connectivity; with headquarters in Gothenburg, they are a fast-growing Swedish technology company with an international client base. Their mobile internet solutions keep thousands of vehicles and millions of passengers connected and online every week.
Karl-Johan Holm, President and CEO of Icomera, said:
"We are very pleased that, through a rigorous procurement process, Deutsche Bahn has chosen Icomera to provide its onboard passenger Wi-Fi. Our solution will extend the high quality passenger experience that Deutsche Bahn is known for, while also establishing the framework and foundations required for developing a truly interconnected eco-system of onboard services and systems in the future. This will ensure that passengers are more productive, better entertained and better informed when they travel."
Michael Peterson, Member of the Board of DB Fernverkehr, said:
"Our goal is to provide an excellent service and on-board experience. We measure ourselves against the high standards set by our passengers, and fast reliable Wi-Fi with high performance mobile Internet connectivity is now a key requirement. After a thorough assessment of available and future technologies, we are confident that Icomera is the best partner to support us in this endeavour."