DAMM Chosen to Replace Aurizon's Aging Analog Rail System
DAMM has successfully been chosen to replace Aurizon's aging analog rail system with a 70+ site DAMM TetraFlex® network.
Operating in the Central Queensland Coal Network, Aurizon manages one of the world's largest and most complex supply chains, made up of 2,670 kilometers of heavy haul rail infrastructure. This infrastructure is connected to domestic coal users, and to the export terminals at Abbot Point, Dalrymple Bay, Hay Point and the Port of Gladstone.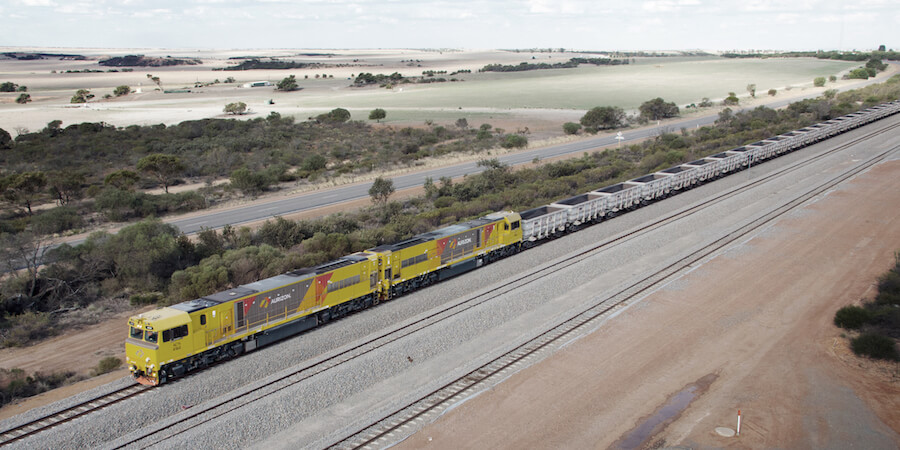 DAMM´s Communication Solution
To ensure a mission critical voice and data communication network in this remote and harsh environment, DAMM's communication solution included the ruggedised and compact IP65 encapsulated BS421 outdoor base station in full redundant configuration. Key to the central Queensland project are the decentralised nature of DAMM TetraFlex® architecture, the ease of integration and installation, low operational cost and availability of local Queensland-based support from DAMM.
Local DAMM Australia Partner Radlink Communications — a leader in wireless technology integration with vast experience in the deployment of TetraFlex® networks — has relished the opportunity to deploy a TETRA network of this scale. Stage 1 of the project has seen the successful completion of Factory and Site Acceptance Testing, and Radlink is well ahead in the rollout of the remaining stages due to the space-saving BS421 base station and fast setup time.
Carsten Laursen, the Regional Director of DAMM, has stated:
"DAMM is a trusted solution provider for the mining, oil and gas industries in Australia. With the local experience and expertise of our system Partner Radlink, we strive to continue our success in Australia by providing secure, reliable critical voice and data communication solutions for both governmental and none governmental entities in need of a resilient solution in a time of increasing security threats."
About Aurizon
Aurizon is Australia's largest rail freight operator and a top 50 ASX company. Each year, Aurizon transports more than 250 million metric tons of Australian commodities—connecting miners, primary producers, and industry with international and domestic markets. Aurizon provides customers with integrated freight and logistics solutions across an extensive national rail and road network, traversing Australia.
About DAMM
DAMM is a world-leading provider of scalable, flexible and user-friendly digital radio infrastructure systems to industrial, commercial and public safety customers. Built for the future of critical communications, the DAMM Multi-Tech Platform enables voice and data communication across technologies, including TETRA, TEDS, DMR and Analog in one single system. With over 30 years of experience in critical radio and broadband communication, we take the lead through superior engineering and a constant focus on customer needs and reduced complexity.
Original article © DAMM.
FOR ALL THE LATEST INFORMATION, NEWS, IMAGES, VIDEOS AND DOCUMENTS FROM DAMM PLEASE CLICK HERE.