Countdown to Brisca Consulting's 3rd Annual Saudi Freight & Logistics Conference
Current Opportunities & Challenges in the Freight-Logistics-Transportation Sector in the Kingdom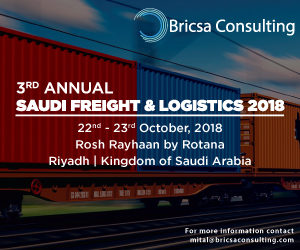 The Arabian Gulf region is aiming for a larger role in the global logistics market, which is estimated be worth $15.5 tr by 2024. In the process, Saudi Arabia is upping its own logistics game and becoming a credible competitor to Dubai. According to reports, Saudi Arabia and United Arab Emirates are considered the most attractive targets for logistics investment. To understand the challenges and prospects in the freight-logistics-transportation sector of the region, Bricsa Consulting is hosting its 3rd edition into the Trans-Freight sector, the 3rd Annual Saudi Freight & Logistics 2018 at Rosh Rayhaan by Rotana in Riyadh – Saudi Arabia on 22nd & 23rd October, 2018.
In April 2016, Saudi Arabia announced its Vision 2030 and under this plan, the country will reduce its dependence on oil considerably by the year 2020. Pending this, Saudi Arabia will soon be a "global player" on the world's investment stage related to the transport and logistics sector. This conference will give a networking opportunity to various public and private sector entities who are willing to invest in this booming market of KSA.
This forum is designed to connect major firms who are involved in Logistics, Supply Chain Management, Third & Fourth Party Logistics, Warehousing, ICT, Freight transportation, Railway equipment manufacturers, and Legal advisories. The 3rd Annual Saudi Freight & Logistics conference will give major sector related companies a platform to discuss the latest projects in the region which can be explored.
About Bricsa Consulting
Bricsa Consulting is engaged in producing high-end networking and knowledge sharing platforms, for senior executives from the government and private sector in the emerging market. Our effort is to provide business communities with superior products designed by thoughtful research. We foster communication among our customers from the industry and working professionals enabling them to work more efficiently and thereby advancing knowledge and learning. Our dynamic growth allows us to invest continually across a larger geographical market. We think ahead, move fast and promote change. Creative business models, innovative products and mutually beneficial international partnerships have established us as a trusted name in the information age.
For Additional Information, Please Contact:
Mital Dedhiya, Marketing at Bricsa Consulting
Phone: +91 22 4880 3422 Email: [email protected]
FOR MORE RAILWAY EVENTS & EXHIBITIONS, PLEASE CLICK HERE.