Continuous Software Delivery for a Fast-paced World
Software development is fast paced and ever changing. Where the industry used to go live with big bang releases without a full view of the impact over the release, Sqills delivers software by building, testing and releasing incrementally.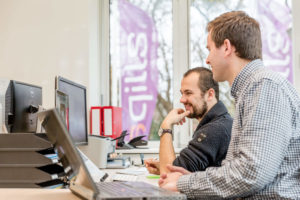 Continuous Delivery
At Sqills, we are using an infrastructure that automates as many steps as possible in the software release process of S3 Passenger. With the right people, processes and tools like Jenkins and Docker in place, we are able to deliver and deploy continuously.
Continuous delivery is the ability to get changes of all types (including new features, configuration changes and bug fixes) into production, safely and quickly in a sustainable way. Since every change is delivered using complete automation, the application can be deployed to production with a push of a button when our customers are ready. This process leads to less pressure on decisions for small changes, encouraging shorter iterations and decreasing time to market.
Sqills Release Train
Our teams work as self-organised agile teams composed from various parts of our organisation (Development, Testing, Operations, Security, etc.). These teams are designed to optimize flexibility, creativity, and productivity. This also means that our employees are stimulated to discover and use the latest technologies. The responsibility of our developers doesn't stop as soon as the software is handed over to our test- or support team. Instead, our developers work closely from the start with testers and system engineers throughout the software development cycle to secure quality, knowledge and hand over. Each team is therefore responsible for running their own code. This team responsibility improves staff engagement, reaction times as well as the quality of our software.
Together, these Agile DevOps teams form an Agile Release Train (ART). This framework doesn't only fit our work in the rail industry by name, but more important: we are incredibly scalable. Our ART team aligns various teams and as we grow, can easily align more teams to our common business.
S3 Passenger Roadmap
S3 Passenger follows a "major" and "patch" release cycle. Urgent fixes are released when needed and every quarter an upgrade of S3 Passenger will be released with new features and improvements to existing features. The roadmap provides an overview of new features and improvements that can be expected in future versions. Our customers can add comments to the roadmap, which are visible for other customers as well. 80% of the current roadmap is driven by customer requested changes.
At Sqills, we are committed to power the digital transformation of the bus and rail industry. We are continuously optimizing our processes and strategies to deliver faster and higher quality software. Want to get more Sqills insights? Contact us!
FOR ALL THE LATEST INFORMATION, NEWS, IMAGES, VIDEOS AND DOCUMENTS FROM SQILLS PLEASE CLICK HERE.