Chengdu Metro Line 4 Enters Complete Commercial Service
The Chengdu metro line 4 enters complete commercial service today, 02 June, with the opening of phase two. Phase two is 20.3km long and has 14 stations. Phase one, which opened in December 2015, is 21km long and has 16 stations.
Alstom supplied the traction system for the entire Chengdu metro line 4.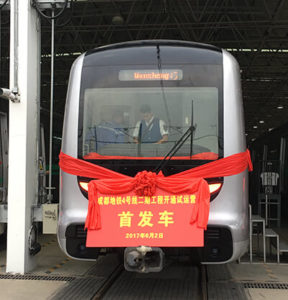 Alstom's Metro Traction System
Alstom has supplied the traction system for a total of 324 metro cars, following two contracts awarded by Chengdu Metro Group Co. Ltd. in 2013 and 2015 respectively.
Alstom supplied the OptONIX system to Chengdu Line 4, which is specifically designed and developed for the Chinese market. It includes traction inverters, motors, auxiliary converters and a train monitoring system. The OptONIX system is designed to improve operational performance and reduce life cycle costs by using regenerative electrical braking.
Chengdu Metro Line 4
Chengdu Line 4 forms part of the city's core metro network along with Line 1, Line 2 and Line 3. It is 41.3km long and has 30 stations connecting, Chengdu City from the West to the East. The line passes by important landmarks including Chengdu CBD, Chengdu University, Chengdu Railway Station and Chengdu Hospital.
Ling Fang, Managing Director of China & East Asia, Alstom, said:
"We are proud to have contributed to the completion of the Chengdu metro line 4, that provides reliable, efficient and green transport solution for residents and visitors. As the global leader in sustainable mobility, Alstom will continue introducing its world advanced and innovative technology to Chengdu, and transforming Chengdu to be a National Core City with the latest technologies"
Original article © Alstom.
FOR ALL THE LATEST INFORMATION, NEWS, IMAGES, VIDEOS AND ARTICLES ON ALL ASPECTS OF ROLLING STOCK, PLEASE CLICK HERE.