Brightline to Chair RedCabin Railway Interior Innovation Summit 2022
Railway Interior Innovation Summit 2022 USA will take place from 19-20 April 2022 in Arlington, Virginia – chaired by Tom Rutkowski, Vice President and Chief Mechanic at Brightline.
In-person summit features keynote speeches, product launches, panel discussions and interactive working groups from global leaders, including Alstom, Amtrak, Stadler, Siemens Mobility, VIA Rail Canada, and the Rail Passengers Association.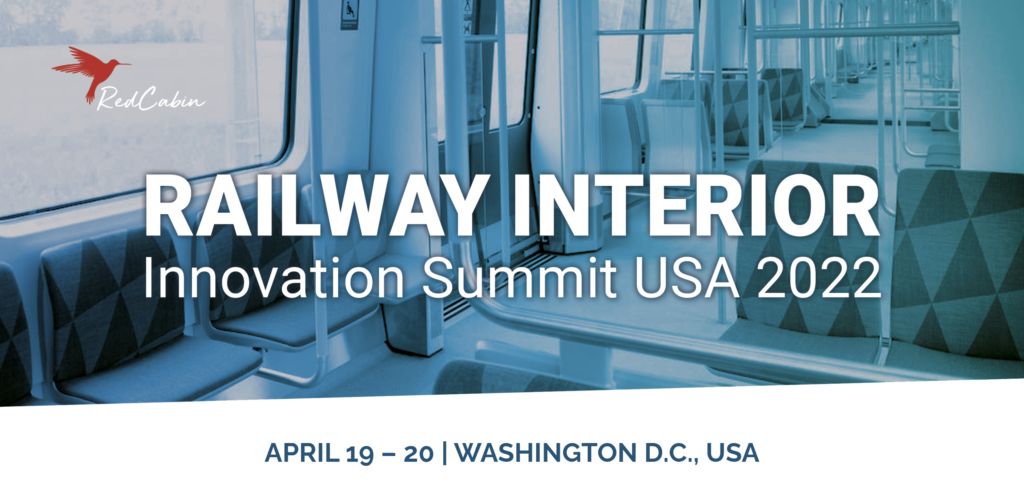 RedCabin has announced the return of its Railway Interior Innovation Summit, taking place at the AUSA Conference & Event Center in Arlington, Virginia from 19-20 April 2022. The summit will be chaired by Tom Rutkowski, Vice President and Chief Mechanic at Brightline.
Having held two successful railway interior summits in Europe, this will be RedCabin's first summit in the USA dedicated solely to the rail interior industry. The two-day in-person summit will bring together leaders and pioneers from across the world to focus on unveiling new interior products and concepts, as well as developing cross-industry partnerships and innovations that enhance the onboard experience.
The global railway industry has had to evolve in the wake of the coronavirus pandemic. While passenger numbers in the US have steadily increased in the last year, both intercity passenger rail and urban rail ridership are down 22 and 56 percent respectively on pre-pandemic levels¹. Passenger expectations have changed and there is now greater focus on developing new interior innovations to revitalise the onboard experience, built around improved hygiene, privacy, comfort, accessibility, and sustainability.
Open and honest collaboration between train operators, manufacturers, and designers will be the key to unlocking new ideas and creating interior innovations capable of transforming rail travel.
The RedCabin Railway Interior Innovation Summit will explore the latest rail interior trends, focusing on:
Interior innovation: including the latest project updates on next generation interior programmes such as the 'Venture' trainset from Siemens Mobility and the Caltrain Bi-level KISS train from Stadler.
Certification challenges: including dedicated workshops exploring topics such as fire safety and material standards in North America and their impact on future innovations.
Enhanced passenger experience: including a behind-the-scenes reveal of the Hyperloop interior development, as well as cross-industry discussions on the role of design in rail interiors and the CMF development for passenger rail cars.
"Collaboration has never been more important to the rail interior industry than it is right now. Passenger expectations have changed rapidly in the last two years; by sharing knowledge, experiences, and challenges we can develop powerful innovations that have a positive impact on the onboard experience.
"With its long history of developing cutting-edge technologies and ideas for rail travel, America is the perfect location for our summit. We have assembled a speaker line-up packed full of true pioneers and we cannot wait to see what we can create together."
The Railway Interior Innovation Summit 2022 is supported by industry partners including Sekisui Kydex, SenoPlast, OMER, Perrone, PriestmanGoode, INPS Group, and Milwaukee Composites. For more information or to download the summit agenda, please visit: Railway Interior Innovation Summit USA – April 19 – 20, 2022 (redcabin.de)
Press passes are free for media wishing to attend the summit.
¹ Data taken from US Department of Transportation Bureau of Transportation Statistics, January 2022.
About RedCabin
Founded in 2017, RedCabin is home to the global travel summit series, #RedCabinLIVE, which is focused on using collaboration and interactivity to develop new products, partnerships and processes which tackle the biggest challenges in transport and improve the passenger experience.
Attended by senior executives from the world's major rail, aviation, and automotive organisations – including design houses, operators, and manufacturers – RedCabin is the birthplace of many innovative projects and ideas which are reshaping how we travel.
For more information on RedCabin and its vision, please visit: https://redcabin.de/