Bombardier Win Contract for Automated People Mover System at L.A.X.
Bombardier Transportation has won two contracts from LAX Integrated Express Solutions (LINXS) for the design, build and maintenance of an automated people mover at Los Angeles International Airport.
The LINXS consortium, of which Bombardier is a member, has agreed a contract worth $4.9 billion US dollars (4.2 billion euros) with Los Angeles World Airports (LAWA) to design, build and maintain the APM system. LINXS has awarded the contracts for the design and build phase and the operations and maintenance phase to two joint-ventures (JVs) involving Bombardier.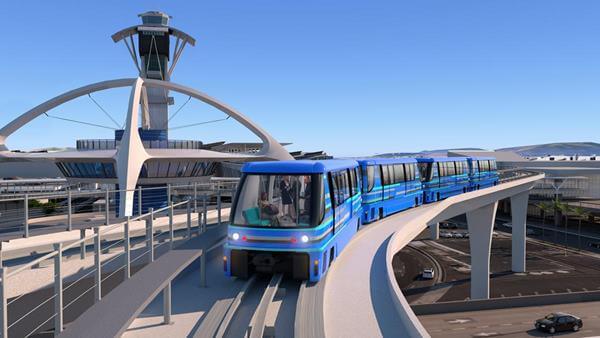 The JV responsible for the design and build phase has contracted Bombardier to install signalling, and on-board and wayside communication systems for the project and also to supply 44 of its INNOVIA APM 300 vehicles. The remuneration from this contract for Bombardier is valued at $219 million US dollars (187 million euros). Bombardier, which has a 55% share of the JV responsible for operations and maintenance, will also service the system and its facilities for 25 years after its completion. The contract for this phase is worth  $576 million US dollars (490 million euros).
Benoit Brossoit, President, Americas Region, Bombardier Transportation, said:
"We are proud to be a member of the LINXS team and to partner with Los Angeles International Airport in bringing a new mobility option to the traveling public. With this contract, nine of the ten busiest airports in the United States have chosen Bombardier for their automated transit systems. We are confident that we will deliver Los Angeles a modern and dependable APM system worthy of a world-class airport."
The agreement for this public-private partnership was announced by Los Angeles World Airports on 15 February 2018 when LINXS was chosen as the recommended developer. The contract was signed in April 2018.
Other airports already using Bombardier's INNOVIA APM 300 are Munich, Dubai and Jeddah, Saudi Arabia.