This week at Formnext 2019, the Stratasys team just announced our exciting relationship with Bombardier Transportation – teaming to accelerate part production for interior and exterior vehicle components for its trains in German-speaking countries. And it's all backed by the power of 3D printing.
According to Marco Michel, Vice President Operations at Bombardier Transportation, the integration of Stratasys additive manufacturing at the Hennigsdorf-based facility has enabled the company to manufacture certain customized spare parts on-demand via digital inventory at lower cost.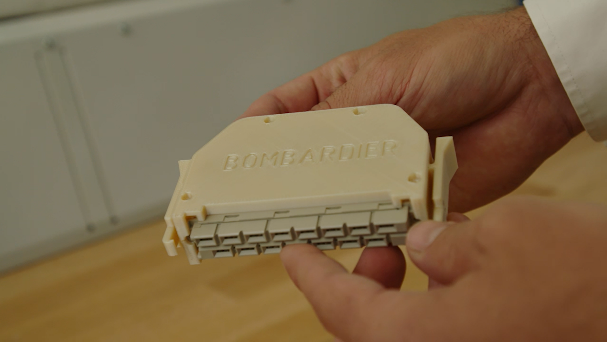 André Bialoscek, Head of Vehicle Physical Integration, Bombardier Transportation Hennigsdorf, also sees the installation of an industrial-grade FDM-based Stratasys F900™ 3D Printer as transformational to production of customized parts.
"Our goal during the development process for new trains is to speed up the production of project-specific parts that take a while to design. While accelerating production, we still need to ensure that total functionality, safety and repeatability are upheld. With our F900 3D Printer, we are able to do all those things – it has been a game-changer for our department. The knowledge gained in this way will then be passed on to our suppliers in case of series production."
The department recently used the F900 to produce a complex customized air vent system for a battery-powered prototype train – in a fraction of the time compared to external part sourcing.
The large-sized part was 3D printed in Stratasys' ULTEM™ 9085 resin material, which due to its light weight, significantly reduces the weight per part compared to alternative materials. For interior train components produced at Bombardier Transportation, use of ULTEM™ 9085 resin means optimization of overall material use and weight of the component. Crucially, the material also meets EN45545-2 rail certification guidelines for smoke, toxicity and fire that is a requirement for all train components produced at Bombardier Transportation.
"With regards to the battery train's air duct, we were able to reduce production time from four months to roughly four weeks. That's a resulting time saving of nearly 77 percent. That is an incredible outcome for our department and demonstrates our ability to now produce certain parts on-demand to our exacting needs without enduring lengthy production times or compromising on material quality. Also, parts can now be replaced much quicker in the servicing of older trains."
Bombardier Transportation is now utilizing the F900 to build digital inventory, thereby ensuring that spare part needs are fulfilled on-demand – regardless of the particular train model or its age. By simply storing 3D scans of parts, Bombardier Transportation bypasses  physical storage of parts. The F900 enables the team to quickly recreate one of its 'digital' parts into a certified train-ready part, leading to fast and direct service for its customers.
"We are now also exploring Stratasys' PolyJet™ 3D printing technology for our design validation process, and the results we have witnessed so far have been convincing. Indeed, in engineering, since using 3D printing for prototyping we have reduced our design process by a massive 30-40%, while also increasing the quality of our overall designs."
Learn more about new possibilities created by using Additive Manufacturing for the rail industry – backed by Stratasys!
Blog by Aaron Pearson.