Bollé Safety Co-Branding Configurator: Custom Safety Eyewear
What if you could design custom safety eyewear in your brand colours?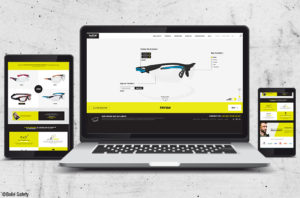 Customise the eyewear of your choice and your brand benefits from the expertise and quality of Bollé Safety!
Bollé Safety is one of the first manufacturers to offer co-branding to its customers. Thanks to this experience and because every day we push our limits to satisfy your needs, you benefit from an innovative service and an irreproachable quality of realization for the greatest satisfaction of your teams.
4 Good Reasons to Choose the Bollé Safety Co-branding for Your Custom Safety Eyewear:
Complete customisation from only 1200 pairs: We create a product that looks like you: lens marking, temple marking, temple colours, NO LIMITS on creation!
Your brand is visible: Your employees work on different sites, both inside and outside of your company and will therefore convey your image as a brand and ensure greater awareness.
You have unique eyewear: A specific product reference is created. You wish to place a new order: it is simple, you just have to send us your dedicated reference and we will start manufacturing!
You offer your employees eyewear that they WANT TO WEAR: Because the look is essential and it is easier to promote a product that looks nice, your employees will be proud to wear their ultra-personalized glasses!
Start your project now: https://www.bolle-safety.com/cobranding-configurator
Rail Safety Eyewear Specialists
Bollé Safety, a world leader, designs, produces and markets safety spectacles, goggles and face shields for the rail industry. Bollé Safety provides an effective and innovative response to each risk. Industry, manufacturing, construction, aeronautics or the military, Bollé Safety caters to all markets and constantly improves its models with technological and ergonomic solutions to satisfy users daily.
At Bollé Safety, we are constantly innovating to bring to each specific trade, effective protection solutions that are pleasant to wear. Always bearing in mind that the best protection are those that make you want to wear them, Bollé Safety is developing complete product lines that are tailored to the needs of its rail industry users.