Bayerische Regiobahn Introduces the Production Planning and Control Platform DatNet from ETC Solutions as a Company-Wide Data Hub
Bayerische Regiobahn starts with ETC Solutions digitally repositioned in the new timetable.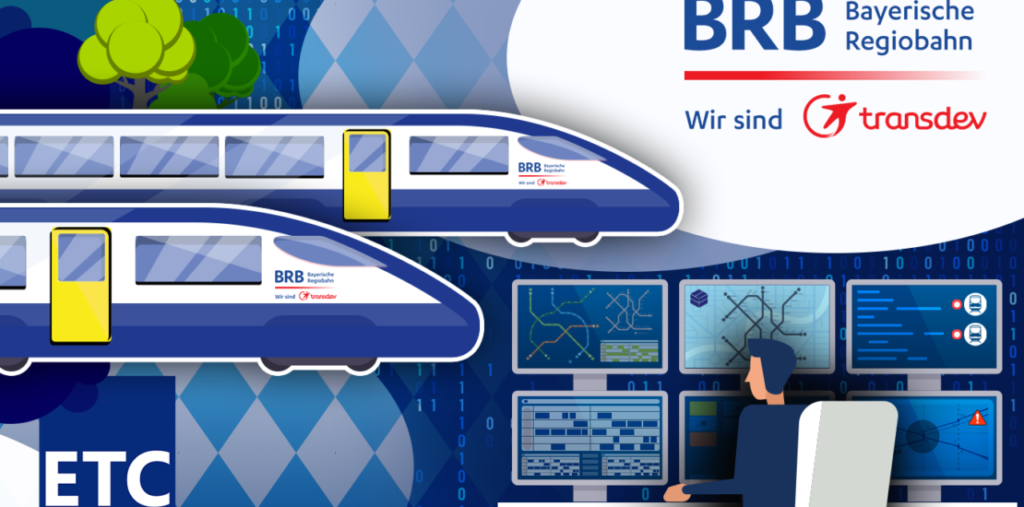 The Bayerische Regiobahn (BRB) has signed a contract with the Berlin digitisation service provider ETC Solutions for the company-wide introduction of the production planning and control platform DatNet. The modular platform with integrated ITCS will in future be used as a company-wide data hub at BRB to digitise and optimise operating processes. The new planning and control platform is used for the operational operation of all existing and future BRB transports.
The data hub specially designed for transport operations processes will not only connect all vehicles in real time with the mobile DatNet mobile component, but will also integrate all BRB drivers into the platform and map them digitally for the overall operational overview. Thanks to the modular structure and the user interface of the PPS DatNet, complex processes in railway operations can be controlled intuitively and provide the various user groups with an easy-to-use tool.
"We want to use modern traffic technology to optimise processes and use solutions that achieve a high degree of digitisation and automation. As the largest private rail operator in Bavaria, it is also important to us to take responsibility and make our operations more efficient, more resource-saving and therefore more sustainable. With DatNet, we are relying on a standardised and scalable platform that optimally meets our requirements."
With the concluded contract, the PPS platform will initially be used from December for the commissioning of the new BRB network Berchtesgaden Ruhpolding. After that, all further and future networks will be switched on successively.
"We are now looking forward to digitising rail operations in Bavaria together with the BRB. As a company with a 360 degree view of public transport, we have designed the DatNet platform in such a way that it provides bridges in the form of services (APIs) to all actors and their traffic-specific processes. Interoperability, standardisation and high data quality allow machines, processes and automation chains to function without unnecessary interruptions and repetitions.
"This not only makes processes more sustainable, but also significantly improves important service factors such as connection security and precise passenger information. This increases the acceptance that we need for local public transport if we want to implement the traffic turnaround and make mobility more sustainable."
Bayerische Oberlandbahn GmbH and Bayerische Regiobahn GmbH are together the largest private railway companies in Bavaria and currently operate the Chiemgau-Inntal, Oberland, Ammersee-Altmühltal and Ostallgäu-Lechfeld networks with around 30 million passengers annually under the Bayerische Regiobahn brand. The Berchtesgaden-Ruhpolding network will be added to the timetable change in December 2021. The companies operating under the Bayerische Regiobahn (BRB) brand are subsidiaries of the Transdev Group, Germany's largest private mobility provider.
With more than 15,000 active software users and a share of over 90 percent in the private German railway market, ETC Solutions GmbH is the leading digitisation service provider and AVL supplier.
This article was originally published by ETC Solutions.