Auckland City Rail Link Works Begin at Britomart
In Auckland, New Zealand, the first phase of work on the City Rail Link will begin at Britomart Station. The City Rail Link is an underground rail link between Britomart and the city centre, and a top priority for Auckland Transport.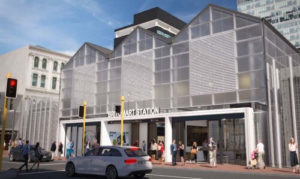 The commencement of the project will begin at Britomart Transport Hub, resulting in the closure of the Commerce Street entrance for six months. The station will remain open and operational, still accessible from  Tyler, Galway and Lower Queen Street, and the eastern entrance at Takutai Square.
A new entrance to Britomart will be constructed at Commerce Street, which are designed to replicate the historic Chief Post Office building. The temporary station entrance will be complete early next year. Phase two of the project will begin shortly thereafter and end in 2020.
Chris Meale, City Rail Link project director said:
"We're beginning construction on the busiest public transport centre in New Zealand which will continue to function throughout the work."
Dale Burtenshaw, Project Director for the constructors leading the Britomart construction said:
"It is fantastic that Downer Soletanche Bachy JV can now start the works with Auckland Transport for the first construction package to the City Rail Link. Given our history with the Chief Post Office and construction of the Britomart Transport Centre, we are excited to work together to on this very important project."
Auckland City Rail Link
The project requires the excavation of twin 2.4km long tunnels 42m below ground level, with a diameter of 7.5m. The project will cost AUS$2.5 billion, with Auckland Council to contribute 50% of this. It will see the construction of two completely new underground stations and the redevelopment of Mount Eden Station. Once complete, the City Rail link will carry 30,000 people an hour.
Contractors to carry out the works are a Downer-led joint venture with Soletanche Bachy and Connectus Consortium, consisting of McConnell Dowell and Hawkins.