Altro's Serge Townsend discusses ways to rebuild confidence in public rail services post-pandemic.
As we start to move towards an end to the pandemic, one thing is certain: the world has changed.
Even though we're all sick and tired of hearing the phrase "the new normal", we've all found a change post-lockdown that we actually quite liked. Maybe it's catching up with people we'd rarely find the time to speak to on video calls, or going out less and making the time to fix that squeaky door that's always bothered us. Perhaps it's something as small as just having to drive less? We hope so, anyway! There's no denying that a return to normality offers a great opportunity for rail operators to build the public's confidence in rail travel and attract a new cohort of rail users. What if the rail industry's positive post-pandemic change was for greater hygiene and cleanability on board? We caught up via video call with Altro's Global Commercial Manager, Serge Townsend, to find out exactly what this could look like.
"Carpet is a staple on most intercity trains, and even some commuters, in the UK," concedes Townsend, "since it gives that comfy, homely feel. But in these times, can we really justify the compromises carpet makes in terms of hygiene?"
The point that Townsend makes is really quite sobering. Carpet by definition is highly absorbent and designed to trap dust and dirt. Uncomfortably, this also extends to bacteria and viruses. Intended to be cleaned by vacuum rather than with detergent, this leaves behind potentially harmful bacteria and viruses to proliferate between the soft fibres. In order to kill viruses, surfaces must be cleaned at a temperature of fifty-six degrees Celsius or higher – yet most carpets cannot be cleaned at a higher temperature than fifty degrees without damaging them. Furthermore, to allow for the introduction of new soiling, surfaces must be properly cleaned at least once every twenty-four hours. When some carpet products can take up to twenty-four hours to dry fully after a hot-water clean, operators with carpet installed are looking at potentially losing vehicles for whole days of downtime.
"It is important now, more so than ever, for operators to make a demonstrable effort to show passengers the steps they are taking to keep them safe whilst travelling by rail," Townsend asserts. The answer, he says, is a resilient rail flooring.
"The main advantage with a resilient floor, be that acrylic or rubber, is how easily, quickly, and effectively it can be cleaned. With a robust cleaning regime, you aren't tied down to any extra downtime and your passengers aren't exposed to any extra risk from harmful microorganisms trapped in the floor covering," Townsend says.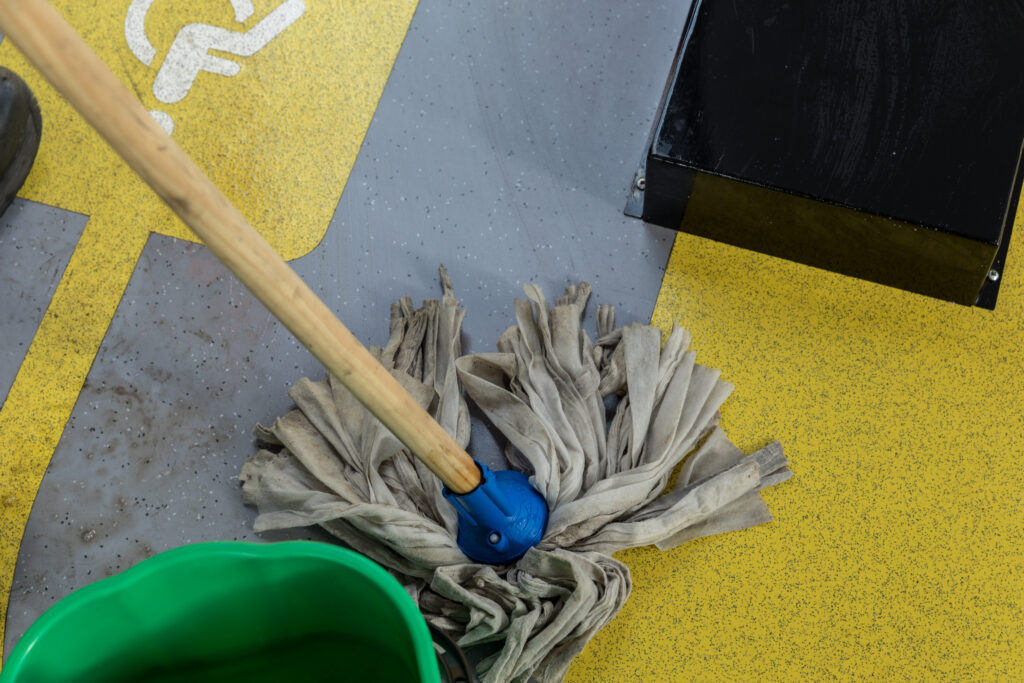 With a resilient floor, such as Altro Transflor Motus™, dirt and bacteria sit on the surface, ready to be whisked away by a mop and detergent between services, and won't be sticking around to cause problems later. A rubber or acrylic floor is not only durable against scuffs and scratches, but also against higher cleaning temperatures and stronger detergents, allowing operators to clean at the level needed to keep their vehicles hygienic and their passengers safe from bacteria and viruses. Even better, Altro transport floors are all rigorously tested for colour fastness, so the extra cleaning needed at a time like this won't take its toll on the aesthetics of the vehicle. Best of all, a rubber or acrylic floor will air-dry far faster than carpet, leaving the vehicle free to go back into service.
A survey by UK independent watchdog Transport Focus showed that at the height of the pandemic 40 percent of passengers had serious concerns about returning to public transport. Does Townsend see the introduction of more hygienic interiors as a way of combatting this loss of confidence?
"Absolutely," Townsend nods emphatically. "Environment is key, and first impressions matter. It's the same as with a restaurant, or a hotel room. If it's dirty, we don't want to come back, do we? Especially at a time like this, passengers are going to care more than ever before about the state of their surroundings. We're incredibly lucky to be able to work with our sister company, Autoglym, to bring our customers the most up-to-date expert advice on cleaning and hygiene."
"And it's not just helping to build passenger confidence back up," Townsend continues. "Even before the pandemic we were encouraging people to take public transport rather than their own private vehicles to protect the environment. Wouldn't it be great if, by attracting new passengers at this time, we could use this time of change to affect a longer-lasting cultural preference towards public transport? If we take this time now to show that we are listening to our passengers and doing all we can to protect them, that's got to pay dividends for the future."