Alstom Unveils Passenger Locomotive for Azerbaijan Railways
Alstom presented its first Prima M4 passenger locomotive for Azerbaijan Railways (ADY) yesterday (09 October) in Belfort, France.
Ten Prima M4 (AZ4A) passenger locomotives are being manufactured on this site as part of a contract awarded by ADY in 2014.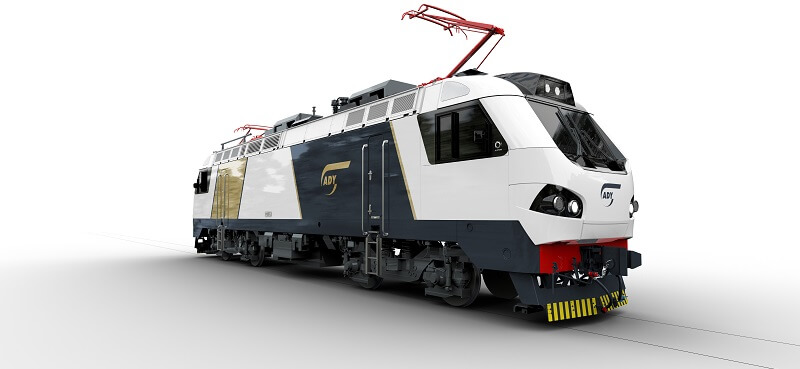 Prima M4 Passenger Locomotive
The locomotives will operate under both 25 kV AC, 50 Hz for the East-West corridor and under 3 kV DC for the North-South corridor. The AZ4A passenger locomotive is based on the Alstom Prima modular platform designed to provide operators with the most suitable solutions for passenger and freight services. It is one of the most versatile, in terms of applications, electric locomotive in the world.
Prima AZ4A is able to run at 160km/h in passenger service with longer runs between maintenance and repair, reduced power consumption as well as reduced locomotive maintenance costs and enhanced fleet management efficiency. The AZ4A is a Prima M4 locomotive developed on the basis of the Azerbaijan Railways technical requirements and in compliance with GOST (CIS norms) standards and specifications. The locomotive has a cutting edge traction system based on Alstom technology. It requires minimum maintenance and provides a high reliability level and low lifecycle cost thanks to its modular design.
Bernard Peille, Alstom Managing Director for Western and Central Asia Cluster, said:
"We are very pleased to deliver our first multi-purpose Prima locomotive to Azerbaijan and become a part of ambitious projects to increase transit link between the Black and Caspian Seas and between Russia and Iran. This technologically tailor-made product is the result of a solid relationship of trust between Alstom's and ADY's project teams"
With around 3,000 km of track, the Azerbaijani railway network is an important link between the Black and Caspian Seas and between Russia and Iran.
Original article © Alstom.
FOR ALL THE LATEST INFORMATION, NEWS, IMAGES, VIDEOS AND ARTICLES ON ALL ASPECTS OF ROLLING STOCK, PLEASE CLICK HERE.