Alstom and Eversholt Rail Reveal New Hydrogen Train Design for the UK
Alstom and ROSCO Eversholt Rail have revealed a new hydrogen train design for the United Kingdom. They have named this train 'Breeze'. Alstom and Eversholt Rail have been working together for a while now to convert old British Rail Class 321 rolling stock into modern, clean hydrogen trains. The transformed Class 321 trains, some of the country's most reliable, could enter service as early as 2022. The key feature of hydrogen-powered trains is that they emit nothing but water. There are zero harmful emissions. Another environmental benefit (as well as a cost-effective one) is that this is not new rolling stock. Making use of existing trains is gentler on the planet's resources. Reduce, reuse, recycle (in that order) applies to the rail sector as well after all.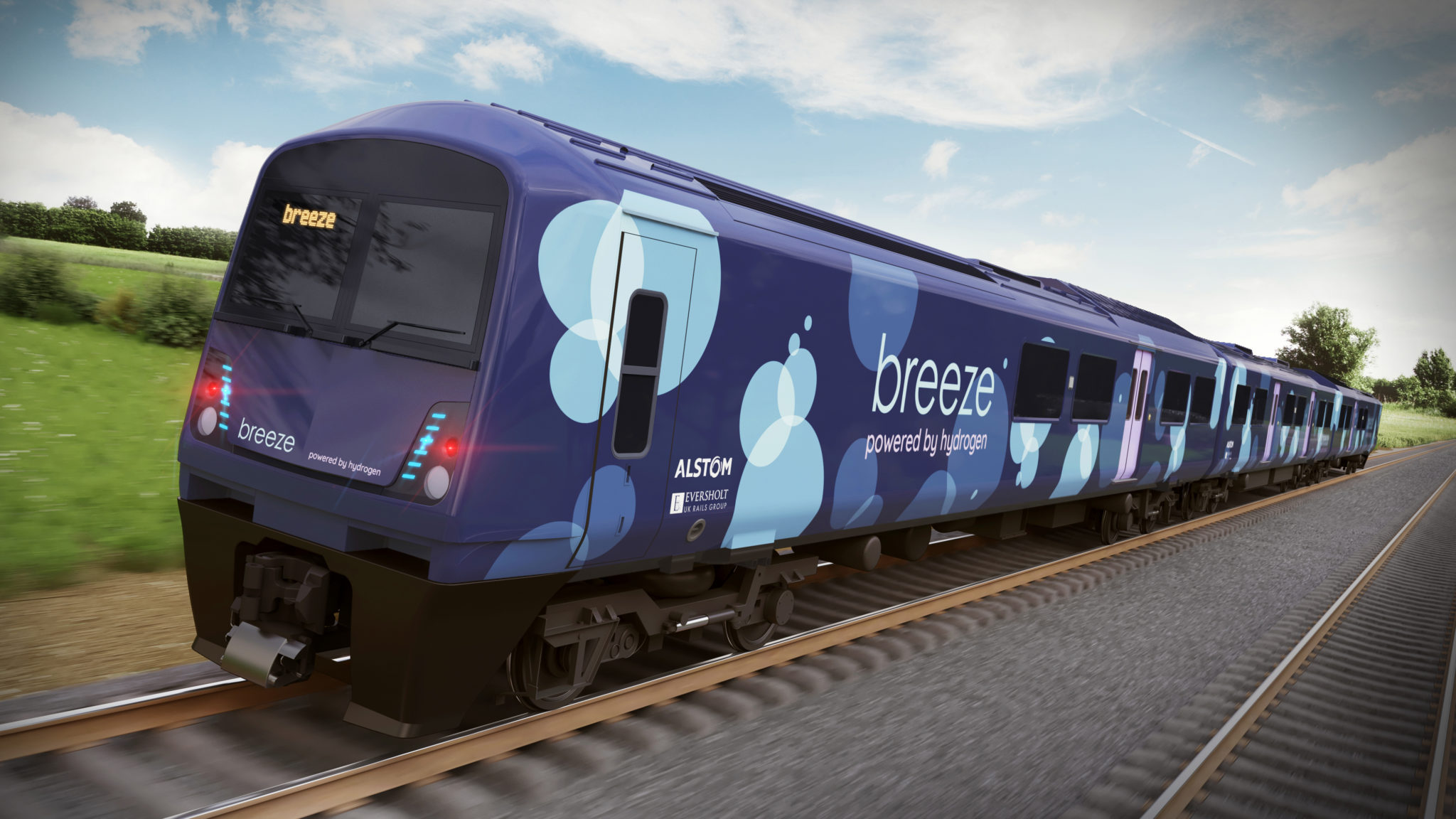 Alstom is the company performing the conversion. This is a perfect fit as Alstom is a leader in hydrogen technology for the rail market. After all, its Coradia iLint hydrogen trains recently entered service in Germany. They are partnering with Eversholt Rail, a ROSCO they have a long-standing working relationship with. They have chosen the Class 321 trains for conversion because of their suitable characteristics.
The two companies are now working with industry stakeholders to create business cases. They will also assess in-depth plans for introducing the new hydrogen train fleet. This will mean the introduction of associated fuelling infrastructure as well.
Alstom and Eversholt Rail say their initial comprehensive engineering study is complete. Furthermore engineers have finalised the design. A lot of innovative work has gone into creating a hydrogen train that fits within the UK's standard loading gauge. Furthermore, the new hydrogen train features more space for passengers than the trains it will replace.
Nick Crossfield, Alstom UK & Ireland Managing Director, said:
"The Breeze will be a clean, green new train for the UK with a stylish, modern look. The railways need to decarbonise and the Government has rightly set out a goal to eliminate diesel rolling stock by 2040. Hydrogen trains offer an ideal solution for routes which are unlikely to benefit from electrification, and our innovative engineering solution means they can now fit within the UK loading gauge and can quickly be ready to roll on Britain's railways.

"In Germany, Alstom's hydrogen trains are already transporting passengers in the comfort and quiet that is characteristic of these trains. The Breeze offers British rail users the opportunity to share in the pleasure that is a journey on a hydrogen train."
Where Will the New Hydrogen Train Conversions Take Place?
The conversion of these Breeze trains will take place at Alstom's facility in Widnes near Liverpool. This will create high-quality engineering jobs in an exciting new sector. This could lead to an export market for the UK. Other countries, such as France, have certainly expressed their interest in having this technology on their trains.
Ministerial Support for the New Hydrogen Train Design
Andrew Jones MP, Rail Minister, said:
"Hydrogen train technology is an exciting innovation which has the potential to transform our railway, making journeys cleaner and greener by cutting CO2 emissions even further. We are working with industry to establish how hydrogen trains can play an important part in the future, delivering better services on rural and inter-urban routes."
Claire Perry MP, Minister for Energy and Clean Growth, said:
"Transport in the UK has evolved over centuries from the world's first steam train to the tens of thousands of electric vehicles on our roads today thanks to our nation of innovators. Plans for the design of  new hydrogen powered trains, which have the potential to only emit water, is further proof of the UK's continued creativity to transform the way we travel as we continue to move to a greener, cleaner economy.

"The UK is on track when it comes to growing a world-leading hydrogen economy, and through our modern Industrial Strategy we are providing £23 million to power our ambition to be the 'go-to' place for first-class hydrogen transport."
Read an in-depth Comment piece by Mike Muldoon, Head of Business Development at Alstom UK and Ireland, about this project: Hydrogen Cells: How Alstom is Building on the Coradia iLint
Alstom and Eversholt are now offering the new hydrogen train to the UK market.