Algeria's New Citadis Trams Enter Commercial Service
Alstom's Citadis trams in Sidi Bel Abbes, north-west Algeria, was inaugurated yesterday by the Minister of Transport and Public Works, Abdelghani Zaalane, in the presence of Aomar Hadbi, CEO of the EMA (Entreprise Métro d'Alger) and Henri Bussery, President of Alstom in Algeria.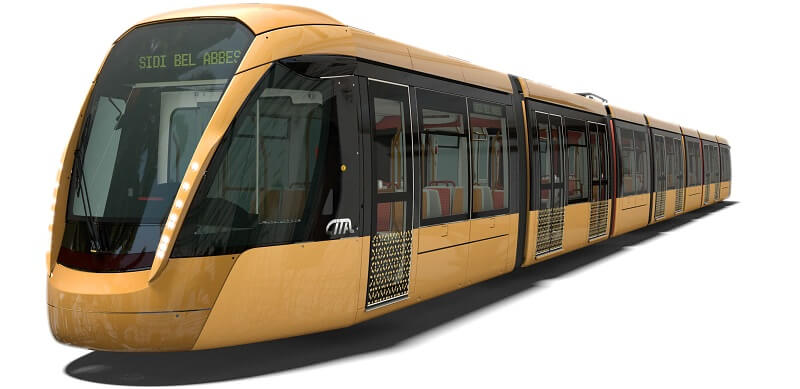 Citadis Trams
In December 2013, Alstom was awarded a contract for the supply of 30 Citadis trams. The trams are made up of seven modules, with a total length of 44 metres and the capacity for 302 passengers. Their fully low floors and 12 side doors facilitate passenger movement and make them universally accessible, notably people with reduced mobility.
The tram is equipped with air conditioning, surveillance cameras, space for buggies and wheelchairs, LED lights and latest-generation screens for broadcasting video content. Its golden yellow livery represents the colours of the wheat fields, a symbol of the region. The tram sets were assembled by Cital – Alstom's local joint venture – at its manufacturing site in Annaba.
The tram has also been identified as one of the greenest urban transport modes due to its low environmental impact when in operation.
Henri Bussery, President of Alstom in Algeria, said:
"With Sidi Bel Abbes, we are pursuing our partnership with Algeria to provide its inhabitants with the most environmentally friendly, comfortable transport system in existence: the tram. To date, the cities of Algeria have ordered 128 Citadis tram units to meet the mobility needs of passengers"
Alstom's Presence in Algeria
Alstom, which has already delivered 98 Citadis trams to the cities of Algiers, Constantine and Oran, is currently working with Cital to finalise the delivery of Citadis trams for the cities of Ouargla, Mostaganem, Sétif and Constantine for its second line.
Alstom is present in Algeria with more than 300 employees. In July 2015, the company was awarded a contract by the SNTF for the supply of 17 Coradia Polyvalent intercity trains.
Original article © Alstom.
FOR ALL THE LATEST INFORMATION, NEWS, IMAGES, VIDEOS AND ARTICLES ON ALL ASPECTS OF ROLLING STOCK, PLEASE CLICK HERE.