InnoTrans is back after four long years.
And as is established practice, the Monday before the show officially opens is press day, during which members of the media get an industry welcome plus a preview of some of the top innovations in rolling stock.
Representatives from the five founding organisations of InnoTrans (VDB, UNIFE, VDV, ZVEI and DVF) were there with palpable excitement that the number one rail show in the world – a juggernaut with more than 2800+ exhibitors also including the bus and future transport sectors – was back at long last.
The first welcome came from Martin Ecknig, CEO of Berlin Messe. He stressed that increasingly sustainability, climate change and the energy transition were at the forefront of what transport industry was focused on. It was therefore no surprise, he said, that this year InnoTrans had added a Mobility+ section, to allow end-to-end mobility to address these concerns.
Martin Schmitz from VDV hailed the success of the €9 ticket, which demonstrated, he said, that people were willing to take the train. In fact, 10% of people had taken the train instead of driving as a result of this campaign. But he was also clear that this one-off incentive wasn't and couldn't be the end and there were already talks under way as to its successor programme.
In his opening address, André John, responsible for mobility at ZVEI, emphasised 4 'Ds' – digitalisation, demographics, decarbonisation and diversity in the supply chain. He stressed that it was important that Germany and Europe showed the world that the transition to net zero was possible and that it was possible for a major, established economy in a manner that was also beneficial – profitable – for those involved.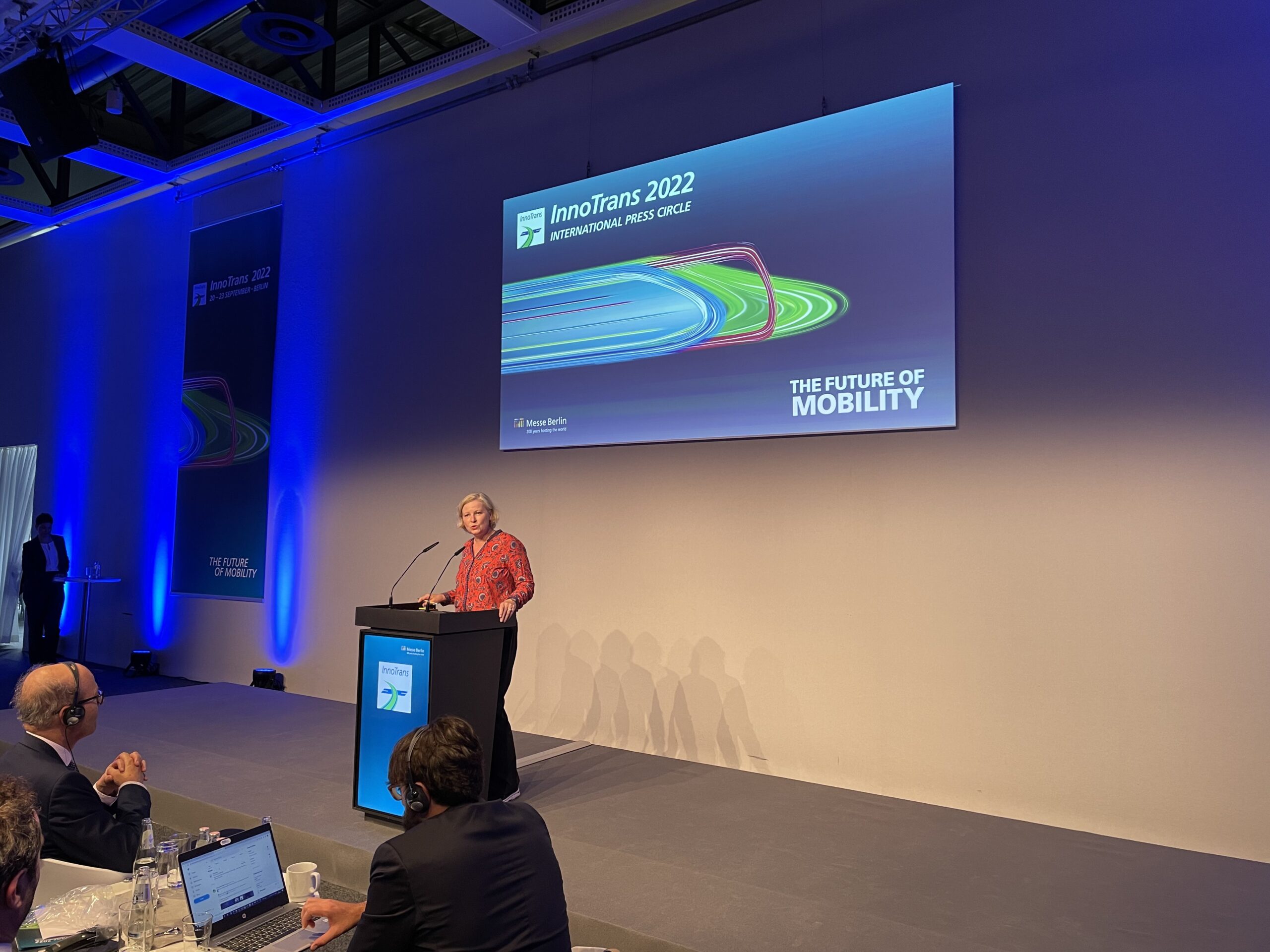 Bringing these threads together, Dr Heike van Hoorn from DVF said that the pandemic, the war between Russia and Ukraine and climate change were all proof that rail was indispensable. It had proved itself capable of providing necessary freight transport across borders when trucks and ships had not been available. And it did so in the most CO2 efficient way, she stressed. Her appeal was to politicians: sure, rail infrastructure was expensive, it was a long-term financial commitment and to date funding had been half-hearted, she said. But rail also had no alternative.
So far the thinking of the rail associations.
The supplier side was naturally less set on commentary and more focused on presenting its contributions – shaped by policy though they might be. For instance, historically, wagons have received their certification for single cargo loads only, such as grain. But DB Cargo's flexible and modular m2 – this stands for multifunctional and modular – wagon manages to bypass this because thanks to its new type of construction, only the base – the carrying wagon – falls under the certification purview. Consequently, it is much more agile in what it can transport.
However, the major talking point was hydrogen and battery power. Ever since Alstom presented its Coradia iLint at InnoTrans 2016 and there was a discussion around whether battery technology (put forward by Bombardier Transportation at the time) or hydrogen would be the future, other rolling stock manufacturers have scrambled to follow suit. And the answer – sensibly – seems to be: depends on the use case.
Hydrogen offers a long range. Batteries support hydrogen and when deployed in their own right don't need the additional infrastructure hydrogen does so are easier to implement.
Offerings in the passenger sector include Siemens Mobility with its Mireo Plus H for Germany (also on display its Mireo Plus B battery version) and Stadler's FLIRT H2 for the American market.
Siemens Mobility — Mireo Plus H
The Mireo Plus H train is powered by a fuel cell – made by Ballard – and a lithium ion battery.
The vehicle features a regenerative braking system and consumes 15% less energy than other comparison vehicles currently in operation.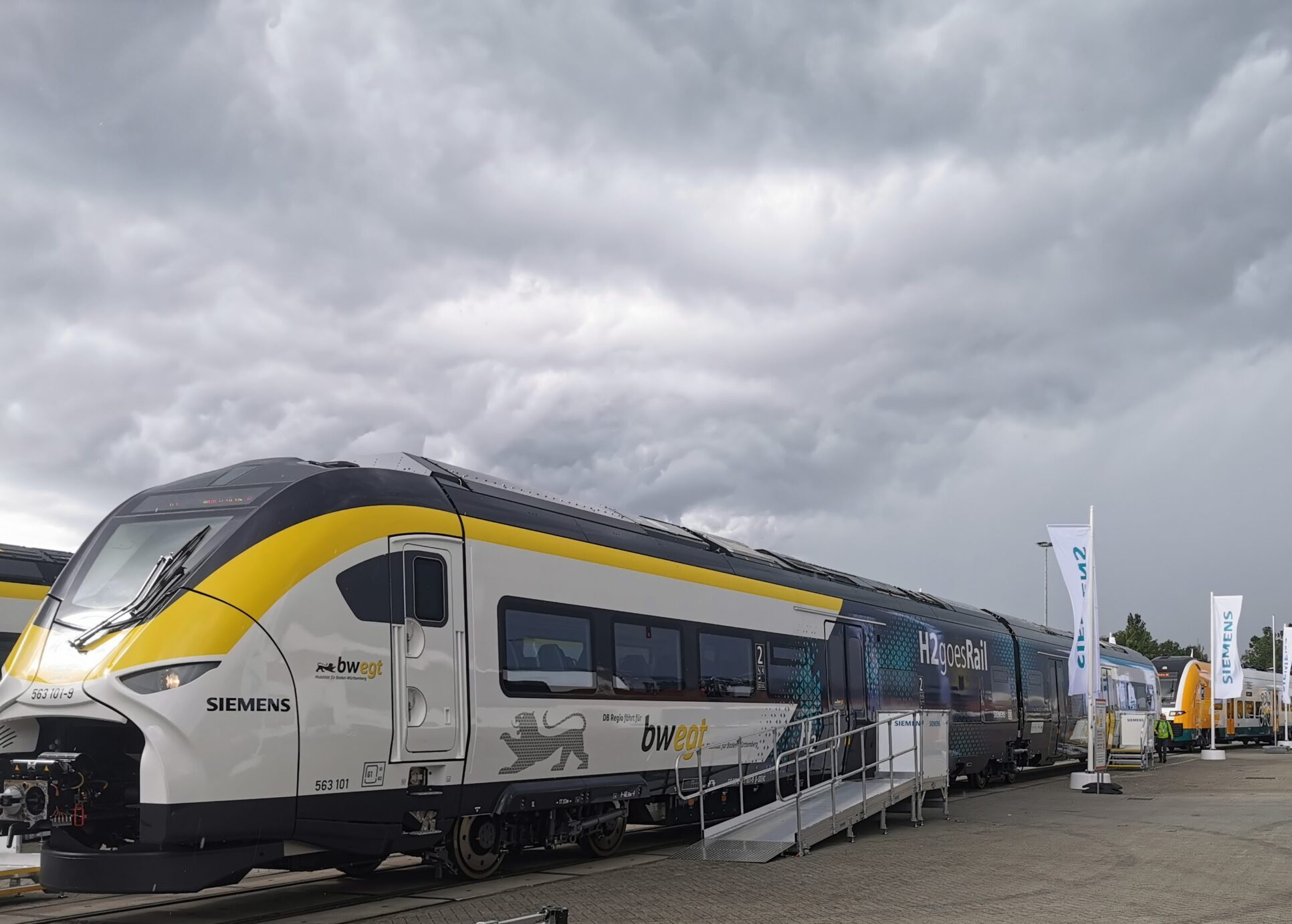 © a2b Global Media
In collaboration with Deutsche Bahn, Siemens is testing the Mireo Plus H as part of a comprehensive system that involves a refuelling stop using a mobile refueller. With this process, 15 minutes of refuelling provides the vehicle with a range of 1,000 kilometres in passenger service.
Stadler — FLIRT H2
Stadler is set to deliver its FLIRT H2 hydrogen train to the San Bernardino County Transportation Authority (SBTCA) in mid-2023. This will be the first hydrogen-powered passenger train to operate in the US.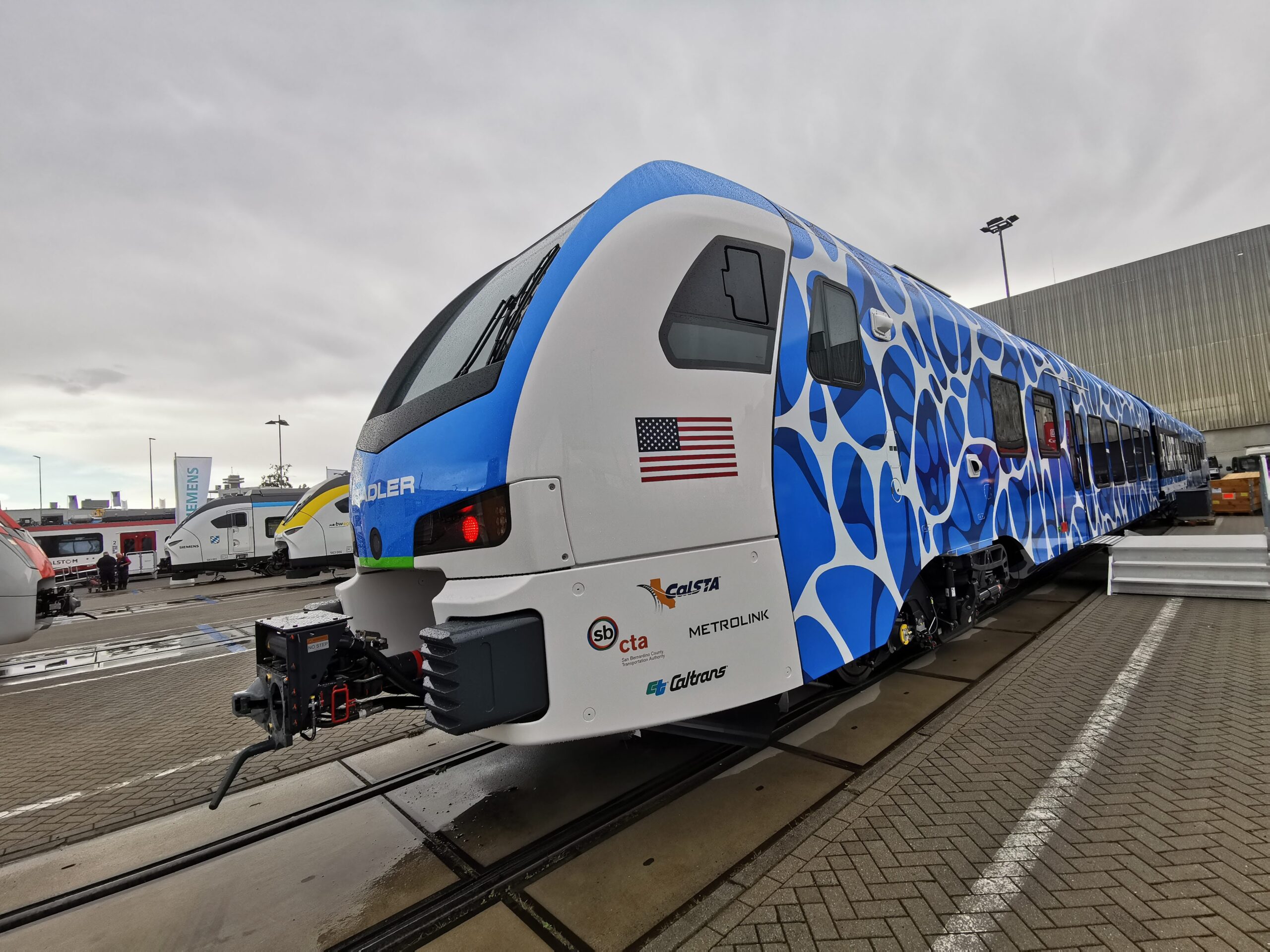 © a2b Global Media
As most railway lines in the US were not electrified, the Stadler representative noted, the company viewed the United States as a particularly suitable market for hydrogen technology. Following its appearance at InnoTrans, the FLIRT H2 hydrogen train will complete a series of test drives.
PESA — SM42-6Dn
It isn't just passenger trains that are exploring hydrogen as an alternative to diesel fuel.
The Polish-made SM42-6Dn is the first hydrogen shunting locomotive to be produced in Europe.
The prototype 4-axle shunting locomotive generates energy using two 85kW hydrogen cells. It also features an autonomous driving system and obstacle recognition technology.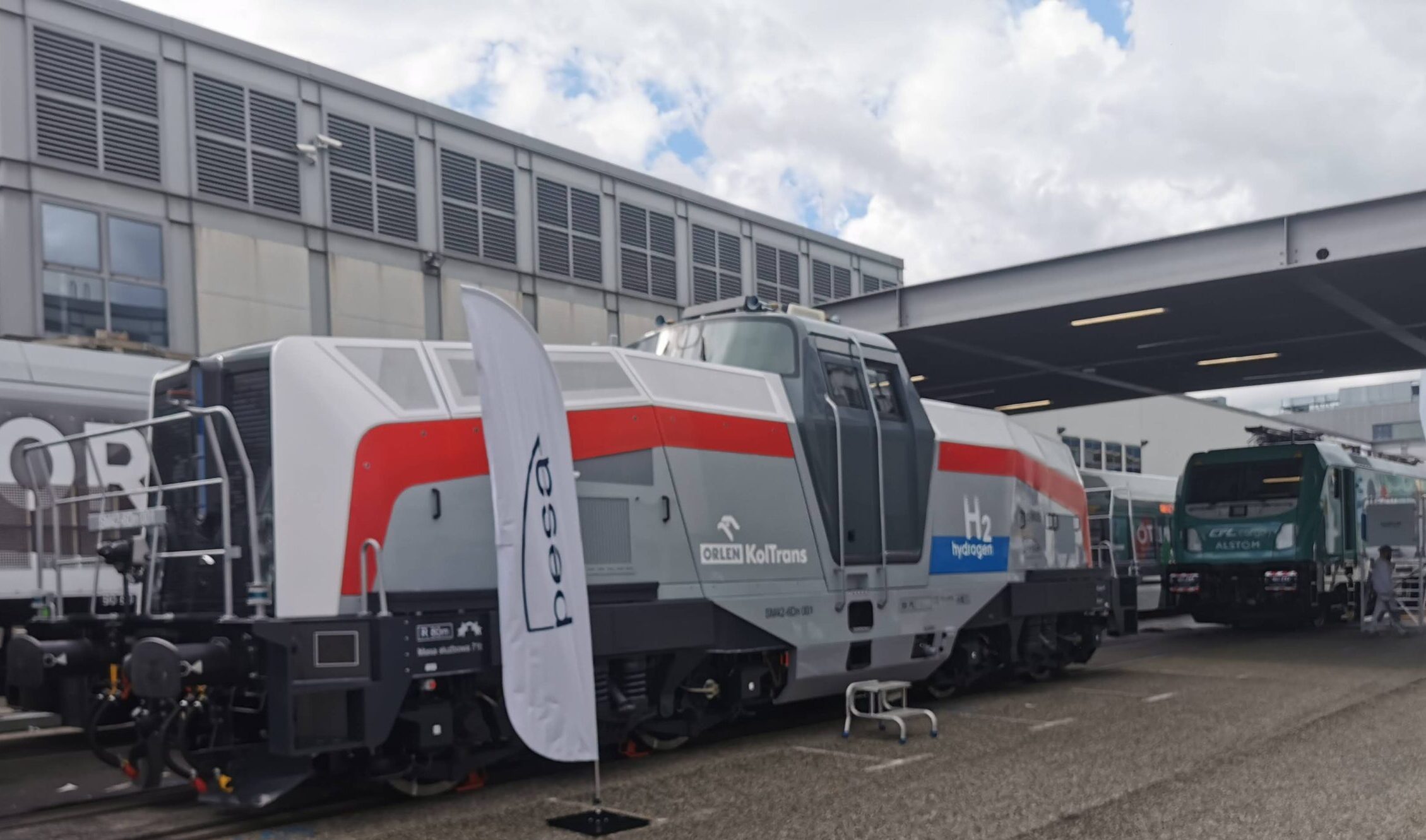 © a2b Global Media
By placing the driver's cabin in the middle of the vehicle, PESA intends to give the locomotive a modern look, while also providing a safe and comfortable working environment.
The SM42-6Dn is being displayed at InnoTrans 2022 alongside its mobile hydrogen refuelling vehicle.
The PESA locomotive, like many of the other vehicles on display, also features battery capabilities. In this case for last mile operations, replacing the traditional need for diesel in areas that are not electrified, such as ports, depots and shunting yards. In the passenger segment, such short-range battery operations are useful around stations, avoiding unnecessary noise and local air pollution, which the Hitachi Rail representative said was a key benefit of its Blues train for Trenitalia.
The PESA representative said the company was now building upon the experience gained in this project to also construct a hydrogen-powered passenger vehicle, a prototype of which it believed should be ready in 2025.
Looking at the trends, it seems that for rail the future is wireless.