Siemens USA Opens New Locomotive Service Hub in Delaware
Siemens is opening a new Locomotive Service facility in New Castle, Delaware that will operate as the company's digital service, supply chain, and technical field training hub in the region.
The 44,000 square-foot New Castle facility will combine Siemens' global digital analytics know-how with its extensive industry knowledge to move rail further into the digital age.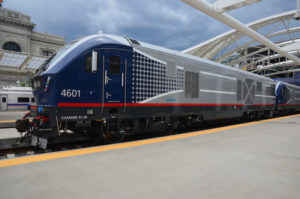 Using the latest in digital and predictive technology, the New Castle team will train service technicians and remotely maintain Siemens locomotives for customers across the U.S. including Amtrak, the Maryland Transit Administration, the Southeastern Pennsylvania Transportation Authority, Brightline, and the Illinois Department of Transportation, among others.
Siemens' Digital Rail Services
Members of Siemens' Digital Rail Services team located in New Castle will remotely collect and analyse over 800 data points from each locomotive daily. The data includes information on equipment health, operational metrics and environmental data made available by automatic, continuous streaming from the locomotive. The data, pulled in real-time, can help diagnose fleet issues and develop predictive maintenance capabilities so issues can be identified issues before they become a problem.
Monitoring US Locomotives
The Siemens team is already putting its data capabilities to use by working with Amtrak to monitor and analyse data from 70 Siemens-built ACS-64 locomotives running along the Northeast Corridor.  On-board information is sent automatically to Siemens "Smart Cockpit" software that helps analyse and flag any items that require closer attention, like if a locomotive is exceeding certain temperature levels. The Siemens team reviews flagged items and recommends actions that are relayed directly to the local technical advisors and Amtrak maintenance experts at the depots along the corridor. Data already collected has led to Siemens and Amtrak to design and implement software updates that improved the ACS-64's performance, helping Amtrak achieve about 33 percent fewer delays in 2016 compared to 2015.
U.S. Sen. Tom Carper, a supporter and near daily traveler of rail service, said:
"When Americans have access to reliable train travel, they tend to take advantage of it. Siemens' new centre – right here in New Castle, Delaware – will help make rail service more reliable by using cutting edge technology to service and build new locomotives at a faster pace and higher volume"

"Our nation's railways are critical elements to our country's infrastructure system, which helps us to compete and win in the global economy."
Virtual Reality to Train Service Technicians
The team will also use virtual reality technology for maintenance training on different locomotive equipment running worldwide. Using virtual reality goggles and handheld controls, the service technician can virtually stand inside a locomotive and use the handheld controls to work on switches, components and panels. This training will prepare them both mentally and physically for work on actual locomotives at customer locations across the U.S.

Siemens USA CEO Judy Marks, said:
"This is a key investment for Siemens in our largest market in the world"

"Trains were the preeminent invention of the first industrial revolution, but today they exemplify a fourth in which software is converging with advanced manufacturing. Siemens' locomotives now come out of our U.S. manufacturing plants born digital; they're computers on steel wheels that constantly collect data. Now, in New Castle, our technicians and engineers will make this data actionable for our customers. That's major value added for railroads striving for even higher levels of safety and reliability."
Locomotive Parts Distribution Centre
In addition to remote data services, the new facility will include a supply chain distribution centre to quickly deliver locomotive parts for locomotive customers. The hub will rely on Siemens robust supply chain from partners across the U.S and will rely on 16 full-time positions based at the New Castle hub to work with the company's nearly 70 existing service employees at customer sites.
Chris Maynard, vice president of Siemens Mobility Customer Services, said:
"It's important to realise that keeping a locomotive running smoothly relies on more the vehicle and rail infrastructure, it's how you maintain these trains that will keep them running reliably for our customers"

"We are bringing the rail industry into the digital era and creating an "Internet of Trains" to ensure locomotives operating across the East Coast and beyond are running as efficiently as possible."
Siemens' Digital Rail Services Portfolio
The New Castle facility builds on Siemens efforts to digitalise the rail industry including the recent announcement of the company's Digital Rail Services portfolio and hub in Atlanta, GA. The facility will also expand on existing service work with customers across the region including a 15-year technical support and spare parts supply agreement with Amtrak and the 70 Siemens-built ACS-64 electric locomotives operating along the Northeast Corridor, and Brightline where Siemens was chosen not only as the trainset manufacturer but as the sole service provider for the new Florida rail system.
Original article © Siemens USA.
FOR ALL THE LATEST INFORMATION, NEWS, IMAGES, VIDEOS AND ARTICLES ON ALL ASPECTS OF TRAIN OVERHAUL / MAINTENANCE, PLEASE CLICK HERE.