U.S. DOT Advances Rail Plans for Northeast Corridor
The U.S. Department of Transportation's Federal Railroad Administration (FRA) has released the Northeast Corridor (NEC) FUTURE Record of Decision (ROD).
NEC FUTURE is FRA's comprehensive planning effort to identify ways to improve the reliability, capacity, connectivity, performance and resiliency of passenger rail service throughout the Northeast Corridor through 2040 and beyond.
The approximate total cost estimate for all projects known to be within the parameters of the ROD totals $121 billion – $153 billion.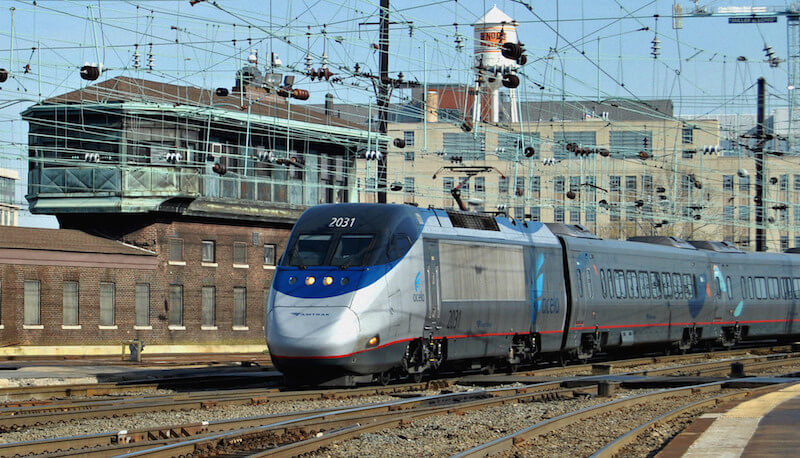 A Long-Term Strategy
The ROD marks the completion of the Tier 1 environmental review process under the National Environmental Policy Act (NEPA), and establishes a long-term strategy for the NEC. The NEC FUTURE ROD expedites the environmental review process by focusing Tier 2 (project-level) environmental planning work and future analysis on priority issues, and by establishing agency relationships and agreements that will expedite and coordinate reviews, and by narrowing the range of possible alternatives that would need to be examined at the project level.
The ROD also allows priority projects to move forward more expeditiously, because the Tier 1 environmental review process will already have been completed.
U.S. Department of Transportation Secretary Elaine L. Chao, said:
"Safe, reliable and efficient rail transportation is a vital part of our nation's infrastructure"

"And expediting the project delivery process is key to delivering needed infrastructure more quickly."
Improving Passenger Rail on the NEC
Developed in concert with NEC states, local communities and railroads and with significant input from the public, the NEC FUTURE ROD lays out a menu of potential ways to improve passenger rail service by:
Increasing, and in some areas doubling, the number of regional commuter trains and providing three to five times more intercity trains.
Improving travel times between key city centers:
Boston to New York City would be 45 minutes faster
New York City to Washington, D.C., would be 35 minutes faster
Expanding the NEC to a 4-to-6-track modernized, integrated rail network with sufficient capacity to accommodate the projected increase in demand for intercity and commuter rail service.
Adding more than 200 miles of expanded track capacity between Washington, D.C., and New Haven, Conn., and between Providence, R.I., and Boston, Mass.
Creating a seamless customer experience through integrated ticketing and convenient connections.
Preparing for the future by stipulating that "new segments should be designated for 220 mph operations, unless there are unique or exceptional constraints that justify limiting the highest practical speed."
Calling for a New Haven-to-Providence Capacity Planning Study to identify on- and off-corridor infrastructure to address the capacity constraints, speed restrictions and flooding vulnerability along the Connecticut and Rhode Island shoreline.
The NEC mainline is 457 miles long, stretching from Washington, D.C., to Boston.  Adding the "connecting corridors" (including Richmond, Virginia, and Albany, New York, etc.) ensures that the corridor rail lines total 899 miles.  Every weekday, about 820,000 passenger trips occur along the NEC corridor — 95 percent of them on eight commuter railroads and about 5 percent via Amtrak.  The ROD assumes that by 2040, ridership will grow about 70 percent at New York's Penn Station, greater than 80 percent at Washington, D.C.'s Union Station and 50 percent at Boston's South Station.
Original article © FRA.
FOR ALL THE LATEST INFORMATION, NEWS, IMAGES, VIDEOS AND ARTICLES ON ALL ASPECTS OF INFRASTRUCTURE, PLEASE CLICK HERE.