UK Rail Minister Claire Perry Resigns
UK Rail Minister Claire Perry has resigned her post amid "shame" regarding Southern Rail's ongoing industrial action and poor service provision. The resignation was announced by the Department of Transport on the evening of Thursday, 13 July 2016. No reason was provided.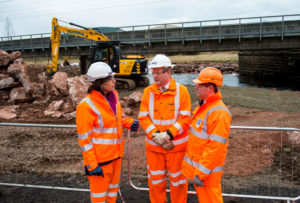 New Prime Minister Theresa May this week has also replaced Transport Secretary Patrick McLoughlin with Chris Grayling. Claire Perry was considered unlikely to retain her position, and some commentators have speculated that she jumped before she was pushed.
In a House of Commons debate earlier this week, Claire Perry was forced to admit that she is "often ashamed" to be Rail Minister, so reports the Guardian. The debate related to on-going cancellations, delays and strikes from Southern Rail. Ms Perry was called upon to strip Govia Thameslink Railway of the franchise, but could not as "the company is not actually in breach of any contractual agreements".
Ms Perry also refused to condemn Southern Rail for poor services, antagonising unions and passengers. Southern Rail is currently in an industrial dispute with staff over the changing role of conductors. Ms Perry, despite her efforts, has been largely ineffective in settling the dispute.
In a statement from Claire Perry on 11 July, the former Rail Minister said:
"There is no threat to safety, jobs or pay from the introduction of new trains and no excuse left for industrial action. This is now a big test for the RMT: are you on the side of passengers, employees, or needless disruption?"
Rail Union RMT replied on the same day, saying that:
"It is outrageous for the minister to claim that front line Southern Rail staff are not on the side of the passengers. Unlike Ms Perry, her officials and the GTR bosses, it is our members out there at the sharp end this morning trying to deliver a service against a background of gross managerial incompetence and rank profiteering. The disgraceful slurs, abuse and lies being heaped on our members by the company and their cheerleaders in Government have to stop.
Her replacement has yet to be announced.