UK: 'Plus 1' Reception for Young Professionals in the Rail Industry
UK: The Railway Industry Association (RIA), Civil Engineering Contractors' Association (CECA) and Young Rail Professionals (YRP) have jointly organised a free evening event to celebrate the youth and diversity of the workforce in the country's rail industry.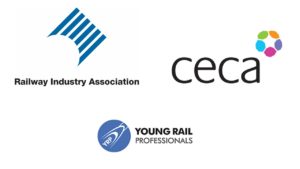 The 'Plus 1' Rail Reception will give employees under the age of 30 the opportunity to mingle with and receive advice from more experienced leaders working in rail. The organisers ask attendees over the age of 30 to bring a 'plus 1' who has not yet reached this milestone.
The reception will be held at 18:00-20:00, Tuesday 4 September 2018, in the KIA Oval Cricket Ground.
Darren Caplan, Chief Executive of the Railway Industry Association, said:
"By encouraging those over the age of 30 to bring someone working in rail who is under 30, we hope to ensure there is a real blend of youth and experience at this exciting event! As well as hopefully having fun, this will be an opportunity for existing and future rail leaders to meet and engage, helping senior players promote what is a fantastic rail industry to a new generation as well as enabling younger professional to meet people who can help nurture and develop their careers. It should be a great evening!"
Michael Charteris, National Chair of Young Rail Professionals, said:
"We are excited to be involved in this Plus 1 Rail reception event in conjunction with RIA and CECA. The event will give YRP members the opportunity to meet, network and learn from other people in the industry and develop links that will hopefully benefit them in their future careers. One of YRPs main objectives is to develop future rail industry leaders and events such as this one play an important role in helping us achieve this. We look forward to seeing you there!''
Scheduled speakers include:
Lilian Greenwood MP, Chair of the Transport Select Committee
Alasdair Reisner, Chief Executive of the CECA,
Darren Caplan, Chief Executive of the RIA
Michael Charteris, National Chair of Young Rail Professionals
Tickets are free, but only 27 seats are available and guests should register their attendance as soon as possible on the RIA's website.