UK: Keyline Showcase at Infrarail 2016
Keyline will be showcasing its expertise and product and solutions portfolio at Infrarail 2016 in London on 12–14 April. Keyline's Flexi-Pit range will be the star attraction at the Keyrail stand, a time-saving innovation delivering drainage solutions whilst meeting latest health and safety regulations.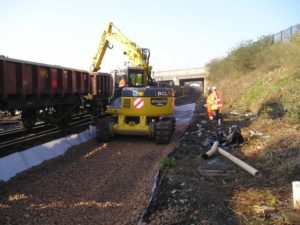 Keyline's latest innovation, the Cubis Flexi-Pit, will be on show. Recently approved by Network Rail, the new Flexi-Pit accommodates from 150mm to 450mm drainage duct entries. The Cubis Flexi-Pit is based on the STAKKAboxTM Ultima access chamber making it as strong as concrete but a fraction of the weight. It features a sliding backfill barrier and each chamber can be installed onsite in just 18 minutes.
At Infrarail, Keyline's experts will be on hand to offer advice and guidance to visitors, as well as offering demonstrations of the company's competency as a solutions provider.
Richard Wade, Head of Rail at Keyline commented:
"Infrarail 2016 is an ideal exhibition for showcasing products and services to the rail infrastructure market in the UK. Keyline's presence at this show is seen as a crucial opportunity to promote our specialist rail business and meet with peers in the industry. We have first-hand knowledge of the operational challenges rail professionals face and we deliver a service to both minimise risk and provide total peace of mind."