TERZ Unveil M12 USB Flash Drives for Reliable and Secure Data Storage in Harsh Environments
Designed for use in trains, commercial vehicles and agricultural machinery, the M12 USB Flash Drives from TERZ enable reliable and secure data storage in harsh environments.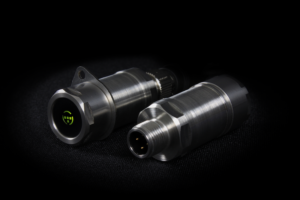 Industrial M12 USB Flash Drive KALIBER-XS1
In many cases, reliable data storage must be carried out locally directly in the application, even outside a protective cabinet. The new KALIBER-XS1 are the ideal solution here.
The world's most compact ruggedized M12 USB memory sticks are designed and developed for use in continuous operation under extreme environmental conditions. Thanks to the high shock and vibration resistance, the high dielectric strength of 2.25 kVDC, the extended temperature range from -40°C to +70°C and the robust IP65/67 stainless steel housing, the USB Flash Drives are suitable for industry and railways (DIN EN 50155).
To ensure the highest level of data integrity and maximum endurance in data storage, a powerful Flash Management is used to handle the memory inside the USB drive. SLC NAND flash and over-provisioning, combined with high-performance wear-leveling and error-correction procedures (ECC), provide increased data retention and longevity (endurance). As a result, maximum performance with absolute reliability in data storage is given, even with demanding read/write cycles.
The ultra-compact design and low power consumption make the KALIBER-XS1 ideally suited for use in vehicles such as trains, buses, commercial vehicles and industrial applications where harsh environmental conditions prevail.