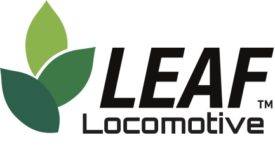 FRA Certified NEW Shunting Locomotive
LEAF is a member of the Marmon/Berkshire Hathaway GLOBAL RAILCAR MOVER GROUP, the leading manufacturers of bi-modal railcar shunting equipment and Tier 3 or 4 locomotives internationally. Placed in service in 2008, our US-based company has been successfully saving locomotive customers 72.5% in fuel costs for railcar movement and shunting in the handling of industrial materials. Today, as part of Berkshire Hathaway and Marmon Holdings, Inc., LEAF continually sets new standards for railcar movement equipment with innovations in efficiency, reliability, safety, and ease of operation.
Tier 3 or 4 Environmentally Friendly Locomotive
LEAF is a Tier 3 or 4 environmentally friendly locomotive that is manufactured in America. Railserve, a leading industrial rail services company, chooses to use LEAF locomotives in the operations they manage due to their reduced emissions and efficiencies. Designed specifically as a railcar switching locomotive, or shunting locomotive, the LEAF is also a cost-effective solution for many short line operations and is available in standard or narrow gauge.
Powerful & Efficient Shunting Locomotive
The single engine LEAF contains a 600 horsepower Cummins generator set for power. The Dual LEAF contains two generator sets to provide 1200 hp, double the power and higher the speed.
Better Fuel Economy
The LEAF locomotive reduces fuel usage by up to 65% when compared to a conventional locomotive.
Reduced Emissions by 99%
Tier 4 LEAF locomotives reduce particulate emissions by 99% and NOx emissions by 92% when compared to conventional units.
FRA Certified New and Easy to Service
Service is easy with the LEAF locomotive. It's built with 100% new parts. LEAF parts are very common and easily acquired. This makes maintenance and repairs simple and cost effective. Routine maintenance minimizes downtime and increases longevity.
Other Features Include:
Eliminates wet-stacking
Uses 90% less oil
Real-time engine performance reporting
Programmable speed control
Traction control system minimizes wheel slip
10% lower decibel output than conventional locomotives
Programmable shut down
One-button push start eliminates up to 30 minutes of startup preparation
Same cab controls as conventional locomotives
Uses readily available parts
Locomotives Made in the USA — Shipped Worldwide
The LEAF locomotives are manufactured by US Craftsmen at our locomotive shop in Longview, Texas, USA.
Proven Reliable
Since 2008, LEAF has been the go-to switcher locomotive for Railserve, a leading provider of rail services with over 70 operations in the USA, Canada, and Mexico. The LEAF has also performed remarkably well for companies like Cargill, Dow Chemical, Ardent Mills, and more.
In 2016, six LEAF locomotives were shipped to Setrag in Gabone Africa. They are being used to transport manganese ore from mines to port with outstanding performance.
The LEAF manufacturer, Railserve, has been in business for over 30 years. They are a Marmon/Berkshire Hathaway company with the backing of the Berkshire Hathaway revenue, which was $250 billion USD in 2017.
Excellent Value
The proven dependability, versatility and cost savings make the LEAF an excellent value. Please contact us today to learn more about how the LEAF locomotive can work for you.