SNCF Mobilités Orders New Double-Deck Trains for Northern France
Bombardier Transportation announced that it received a repeat order for 32 OMNEO Premium double-deck trains from the French National Railway Company, SNCF Mobilités, on behalf of the Centre-Val de Loire Region.
The order is the result of an agreement reached between the State and the Region on 19 January 2017 to take over the management of three intercity lines or Trains d'Equibilibre du Territoire (TET).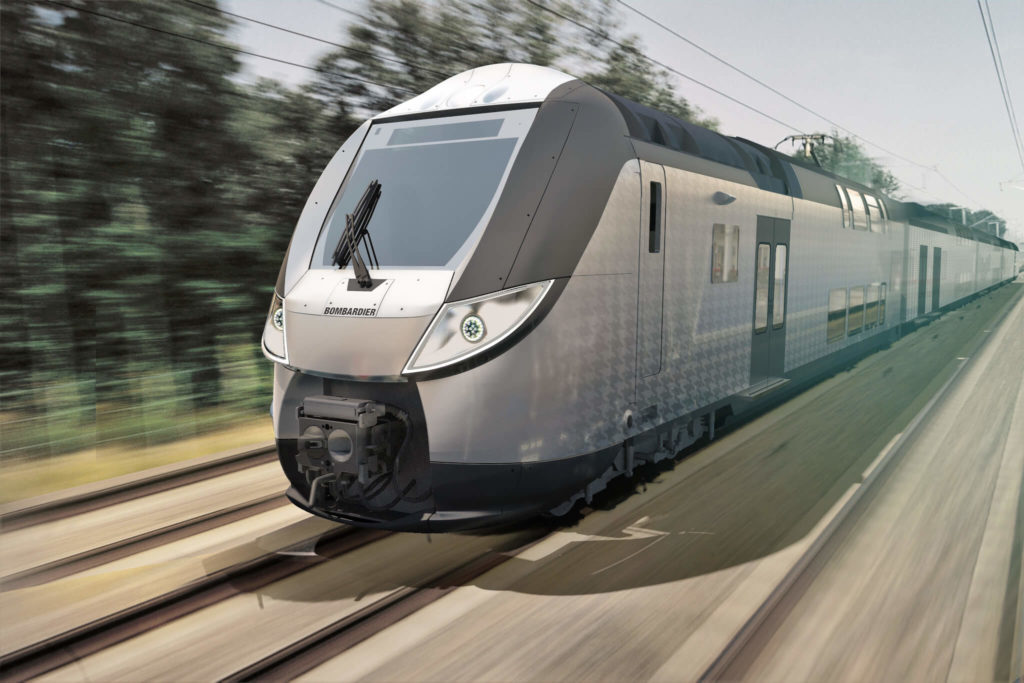 Double-Deck Trains for Centre-Val de Loire
This repeat order is part of the contract signed in 2010 with SNCF to provide up to 860 double-deck trains to French regions and is valued at approximately €375 million.
The Centre-Val de Loire Region plans to roll out these new spacious, highly comfortable trains on the following very frequently used lines: Paris-Orléans-Tours, Paris-Bourges et Paris-Montargis-Nevers. The first trains will be delivered in 2020 and gradually until 2022.
Spacious Seats, WiFi, and Easier Access
Specially designed for long intercity journeys, the OMNEO Premium can travel at 200km/h and offers a high level of onboard comfort to meet the demands of long distance travellers. Bombardier's engineers developed a new interior design which optimizes available space to the benefit of passengers and seating arrangements. The train will feature a newly developed wide seat with integrated lighting, power plug, and Wi-Fi, while its interior design, colour scheme and configuration will be fine-tuned in the coming months in cooperation with the client. It offers improved access via large, platform-level doors, wide corridors and gangways for easy movement throughout the length of the train.
The 110m-long train for the Centre-Val de Loire Region will offer a seating capacity reaching 373 seats in first and second-class cars, with large baggage racks, dynamic passenger information screens, a dedicated area for two wheel-chairs and space for nine bicycles. It will operate in multiple units of two or three.
Laurent Bouyer, President of Bombardier Transport France, said:
"This order of OMNEO Premium trains from the Centre-Val de Loire Region confirms the demand for spacious, modern, comfortable trains for intercity journeys"

"Regular passengers will discover a new style of rail travel as well as tourists who come from all over the world to visit the attractions in Berry and the World heritage listed Loire Valley. These trains from the OMNEO double-deck platform are designed and produced by Bombardier teams on our Crespin site in the Hauts-de-France Region. Such a high-tech project highly contributes to the French Rail industry at large."
Bombardier's OMNEO Platform
The OMNEO platform, which includes the Regio 2N and the OMNEO Premium, is a family of extra-large double-deck trains which brings greater capacity, comfort and accessibility to urban, regional and intercity services.
To date, ten French regions have ordered a total of 373 OMNEO/Regio 2N trains. The OMNEO double-deck platform cater for suburban, regional and intercity services. Orders per region are as follows: 32 OMNEO Premium intercity trains for Centre-Val de Loire and 40 for Normandy ; and 301 Regio 2N for Auvergne-Rhône-Alpes (40), Brittany (26), Centre-Val de Loire (14), Hauts-de-France (25), Ile-de-France (125), Nouvelle Aquitaine (24), Occitanie (18), Pays-de-la-Loire (13), Provence-Alpes-Côte d'Azur (16).
Original article © Bombardier.
FOR ALL THE LATEST INFORMATION, NEWS, IMAGES, VIDEOS AND ARTICLES ON ALL ASPECTS OF ROLLING STOCK, PLEASE CLICK HERE.