Škoda Unveil Deutsche Bahn Regio Locomotive
Škoda Transportation have unveiled their latest locomotive for German operator Deutsche Bahn Regio. The cutting-edge Emil Zátopek universal locomotive will now go through testing on the Velim test circuit. A total of six of the locomotives will be supplied.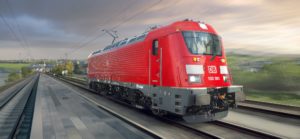 The locomotives use alternating current of 15 kV/16 Hz for Deutsche Bahn Regio for the Nuremberg–Ingolstadt–Munich line. They will form part of six six-coach double-deck trainsets of the push-pull variety. Operation of the locomotive can be controlled from the vehicle itself or the locomotive post. They can be deployed in multiple action.
Škoda Plzeň have produced more than 5000 locomotives to date. The Emil Zátopek model is in operation in the Czech Republic and Slovakia. They are certified by European certificate TSI High Speed RST. They have a maximum speed of 200km/h and are mad from materials that are 95% recyclable.
Tomáš Ignačák, the chairman of the board of directors of Škoda Transportation, said:
"We are delighted that we have successfully developed and produced the latest locomotives for one of the most demanding clients in the world. We have thereby confirmed that the company Škoda Transportation can rank alongside the largest world producers of rail vehicles."
Zdeněk Majer, the vice president of Škoda Transportation, said:
"Owing to this reference from the Deutsche Bahn Regio, doors are opening for us in other tenders. There is interest for locomotives designed with alternating 15/25kV voltage not only in the German-speaking countries, but also, for example, in Scandinavia, Hungary, Turkey and other countries."
Jaroslav Brodský, product manager of Škoda Transportation, said:
"The new locomotive has a new design in the typical red colour of the German operator Deutsche Bahn Regio with the arrangement of the post and of the operating elements according to Deutsche Bahn Regio. It is an interesting fact that it is possible to carry out partial and fully automatic brake test within both the locomotive and the six-coach trainset."