India: Siemens Mobility has won the contract to provide CBTC (communications-based train control) and automated train technology for the Bangalore Metro.
This will be the first CBTC project in India featuring grade-of-automation (GoA) 4, which is the highest grade of automation.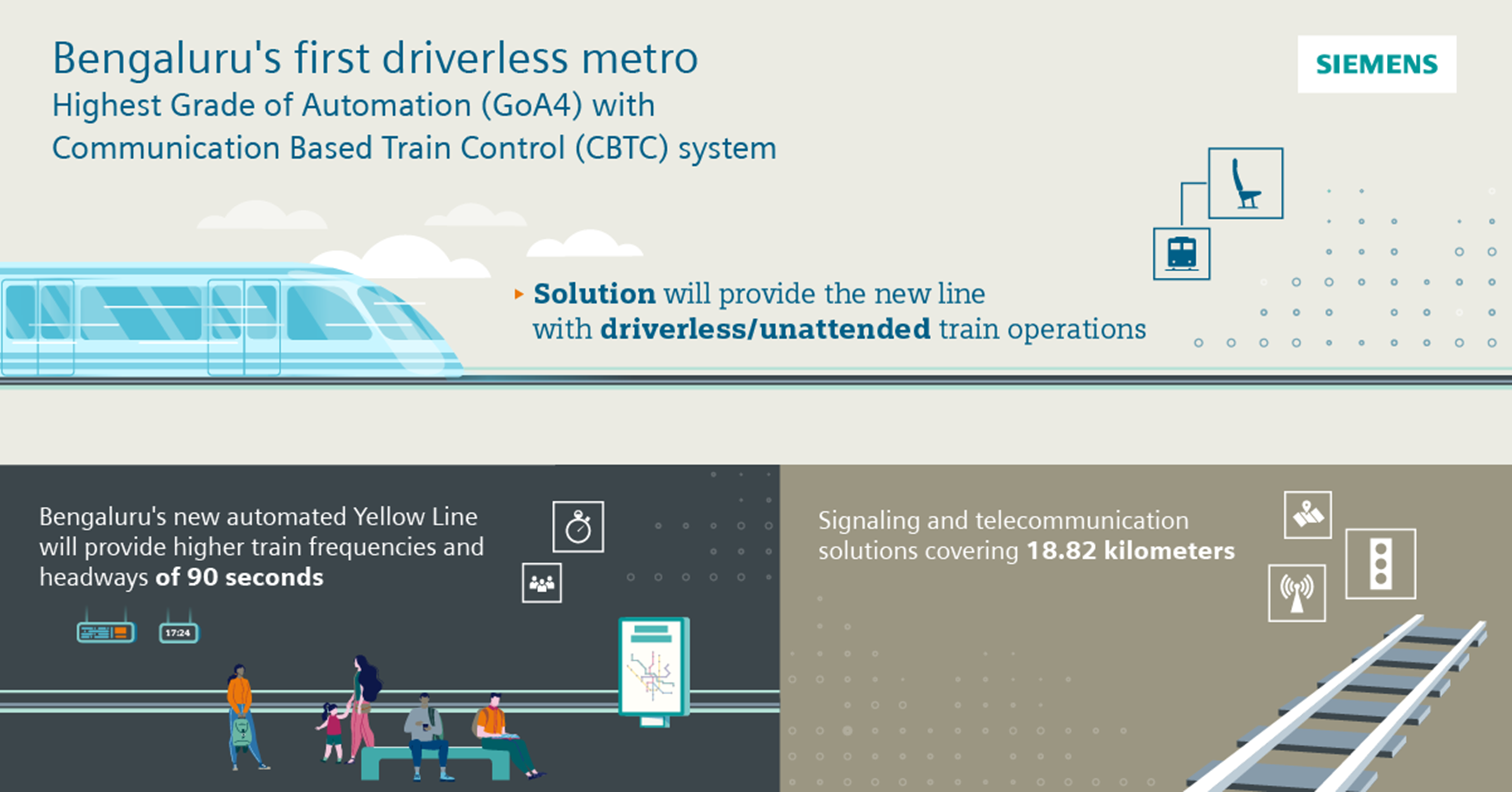 Siemens Mobility and Siemens Ltd India will work with Bengaluru Metro Rail Corporation Ltd (BMRCL) to install a full set of automated train solutions for phase 2 of the Bangalore Metro expansion. Siemens Mobility will install its CBTC technology on 18.8km of the Yellow Line. It will comprise electronic interlockings, an automatic train protection and supervision system and a telecommunications system. Once equipped with automated signalling and train operations technology, the line will be able to accommodate a headway of 90 seconds for high capacity levels.
"Siemens Mobility is excited to partner with Bengaluru Metro Rail on this groundbreaking project that will provide this new rail line with the highest grade of signaling technology and automation services.
"Our state of the art CBTC signaling at GoA 4 will allow trains to operate driverless, as they will be automatically controlled and supervised without any onboard intervention. This will deliver a truly modern system featuring superior availability, reliability and passenger experience."
Bangalore, the capital of Karnataka, has a population of more than 12 million in its urban area.
The Bangalore Metro
Bangalore's metro, known as the Namma Metro, is being built in stages. Phase 1 became operational in full in June 2017. Its daily ridership is approaching half a million passengers. It measures 42.3km, serving 40 stations. The Purple Line runs east-west, the Green Line north-south. In Phase 2 both the Purple and Green Lines will be extended and two new lines – the Yellow Line and the Pink Line – will be built. The Yellow Line, for which this contract has been awarded, is due to open in March 2022. It will have 16 elevated stations.