Rail Baltica: Presentation of Technical Design Requirements for Two Sections
Rail Baltica, the infrastructure project that will link Finland, Estonia, Latvia, Lithuania and Poland via a standard-gauge line, is divided into eleven sections in total. The railways in the Baltic states otherwise run on 1520mm gauge.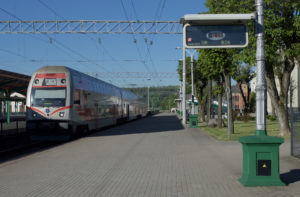 On 18 October the Rail Baltica joint venture held a meeting to present the technical design requirements for two of these sections – a 71km section in Estonia between Pärnu and Rapla, and a 78km section in Lithuania from Kaunas to Ramygala. The meeting was attended by companies that have qualified to take part in the tendering – six per country in total. They have been given a deadline of 27 November by which to submit their proposals for the tender.
RB Rail AS says the purpose of the tenders is to develop the construction design and design supervision services for building the track substructure, superstructure and related civil structures. In scope they include site investigations, value engineering, the drawing up of a master design and the development of an in-depth technical design.
The meeting was an opportunity for the qualified companies to investigate the requirements in detail.
Lithuanian Section
The Lithuanian section of the project will feature a bridge over the Neris river that will be 1.7km long. It will be the longest railway bridge in the Baltics. The initial plans also include three other railway bridges along with seven road viaducts, eleven railway viaducts and three animal crossings, or ecoducts.
Estonian Section
It is currently thought that there will be four railway bridges in the Estonian section, along with sixteen road viaducts, six railway viaducts and nine animal crossings.
Rail Baltica So Far
Of the eleven Rail Baltica sections procurement is currently on-going for six of them. The next technical design procurement will be announced at the end of the year. It will cover the section running from Pärnu to the Latvian border. It is estimated that the detailed technical design for the entire project will be procured by the end of 2021.
Rail Baltica is a priority project for the European Union's Trans-European Transport Networks (TEN-T). 
Read: Open Competition to Develop Design Guidelines for Rail Baltica Announced