Qatar Rail Fire Safety Programme
Qatar Rail received a team from the Qatar Armed Forces Emiri Corps of Engineers on 1 June 2016 at Doha Metro's Gold Line, Al Waab Station construction site to conduct a safety training programme and to boost Qatar Rail fire safety preparedness. The following day, the Interior Ministry's Civil Defence Department and the Green Line contractor jointly organised a fire safety drill to correctly train contractors and labourers in emergency procedures.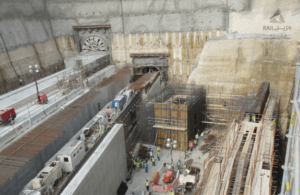 Over the course of their visit to Al-Waab Station construction site, the Qatar Armed Forces' Emiri Corps of Engineers, with Qatar Rail representatives and the contractor listened a briefing about the infrastructure project. There followed a presentation on existing safety protocols, a tour of the metro tunnel connecting the Al Waab and Al Sudan Stations and then on to the Al Sadd Stations site for a better look at the tunnel boring machines (TBM).
There was also a jointly held fire safety mock drill, put on with the cooperation of the Civil Defense Department and the Green Line contractor. The drill was staged at the Doha Metro Switchbox underground site near Al Massila Station on the Green Line. A team from the Qatari Civil Defense Department supervised the Green Line contractor safety team throughout the drill, attempting to extinguish a fire on construction materials which will be used over the course of construction. The drill will train labourers and supervisors on safety procedures.
Engineer Hassan Ahmed al Hamed al Marwani, Qatar Rail's Executive Director of Technical Interface Department, said:
"Both activities had positive fruitful results. Since the early stages of our project, we at Qatar Rail have invested in involving all concerned state security entities in the Doha Metro Project. This is because their involvement in our activities significantly contributes to the emergency and evacuation planning processes during the construction and operation phases."
Qatar Rail recently celebrated the completion of 100km of tunnelling on the Doha Metro, representing 90% of the total tunnelling on the network.