Qatar Rail Terminates Contract
Qatar Rail has announced that it has terminated the Major Stations contract with SOQ JV, comprised of Samsung, OHL, a concessions and construction group based in Spain, and QBC (Qatar Building Company). Qatar Rail has appointed Consolidated Contractors SAL (CCC) to take over the contract from 19 May 2016.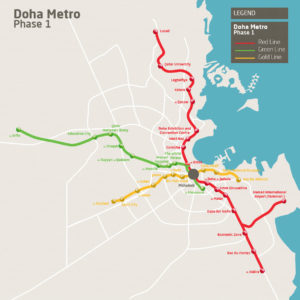 In a letter from OHL sent to the London Stock Exchange on 4 May, OHL state that the Design & Build Package 5 Mushaireb Station / Education City Station contract was terminated by Qatar Rail on the basis of non-compliance with certain contractual obligations by the consortium. The termination of the contract also follows the presentations of a series of Notices of Dispute by the consortium.
OHL also state in the letter that the termination of the contract has not been carried out on any legitimate grounds, and that no proper resolution to any dispute was sought by Qatar Rail.
A statement issued by Qatar Rail on 5 May said that:
"[Qatar Rail] will take every step to protect its rights and believes that its decision was made on solid contractual grounds."
The tunnelling for the Doha Metro is 90% complete, and the overall project is around 40% complete. The first stage of the metro is due to be completed by 2019/20, with the entire metro, tram and long-distance rail network expected to be fully operational by 2030. The works carried out by SOQ JV thus far amount to €247.7 million, representing about 3.6% of the total works to be carried out under the contract. It is not certain how this disruption will affect the works.
In its statement of 5 May, Qatar Metro said:
"[Qatar Metro] was doing all it could to minimise any delays and risks to this part of the Doha Metro project. Work will continue on the Major Stations project sites as planned and discussions are underway with the subcontractors to ensure continuity."