Peter Haerdi Named New CEO of COMLAB Group
The Board of Directors of the globally active COMLAB Group has chosen Peter Haerdi as its new CEO.
The COMLAB Group, based in Switzerland specialises in high-frequency digital radio system solutions. Mr. Haerdi took up his new position at the beginning of the current financial year.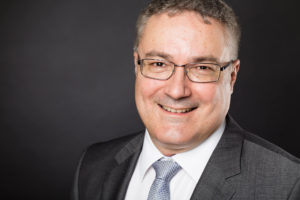 Peter Haerdi is ideally equipped for his new position and the challenges that go along with it. Alongside his outstanding technical and management skills, he brings solid leadership experience from his managerial work in globally active technology companies in the ICT sector. He began his career in various management positions for companies like Digital Equipment, Compaq, and PeopleSoft, and as General Manager for Baan Switzerland. Mr. Haerdi went on to become Managing Director for Ascom Wireless Solutions Switzerland, where he was responsible for their restructuring and successful repositioning, and most recently was stationed in Sweden as Vice President and member of the division management of Ascom Wireless Solutions, where he was responsible for the division's international marketing and product management.
About COMLAB
COMLAB Group, founded in Switzerland in 1971 and part of the Haag-Streit International Group, is a leading developer and provider of high frequency technology based digital radio system solutions and radio jamming systems for all areas of application. COMLAB is an international market leader in the fields of rail and metro tunnel systems, road tunnel and in-house systems, as well as in-train and jamming systems. All services, from project management to hardware and software development, are provided from one source. Its international customers include prominent rail companies such as SBB, the Deutsche Bahn, the Austrian Federal Railways, and the China Railway Construction Corporation as well as train and tunnel construction firms, airports (such as Zurich), mobile phone providers, and security services (including military and emergency services organizations). The COMLAB Group is headquartered in Ittigen near Bern, Switzerland with branches in Germany and China, and has a global network of sales partners. The Group has a total of 250 employees. COMLAB invests selectively in the development of innovative and high-quality products and offers customized consultation services.
Original article © COMLAB.
FOR ALL THE LATEST INFORMATION, NEWS, IMAGES, VIDEOS AND DOCUMENTS FROM COMLAB PLEASE CLICK HERE.