50 Years with Altro
August, 1970: a packet of digestive biscuits would cost you six shillings, the Jackson 5 released I'll Be There, and Pep Shepherd started his first shift at Altro.
Now, in 2020, Pep works as our Health and Safety Administrator, supporting Altro's Zero Harm vision and helping to ensure a safe working environment for everyone who comes through our doors. Back in 1970, Pep started in the warehouse, picking orders for dispatch, then moving to picking aluminium products, such as nosings, before joining the trimming team in 1971. Being a part of Altro for just under half of our century's existence, he has witnessed all our changes and developments first-hand – from the move to the Letchworth premises in 1988, through countless improvements and developments in our manufacturing process, the launch of Altro Whiterock walls system and the invention of adhesive-free flooring, to the price of digestive biscuits rising to the heady heights of £1 per packet.
"Back in the day, we would make a two-hundred metre roll of flooring and then cut it by hand to twenty metre lengths. I moved on to this job because when, in 1971, we changed the flooring width from two feet to two metres, the lad I took over from unfortunately wasn't very tall, and couldn't reach across the width of the floor anymore!"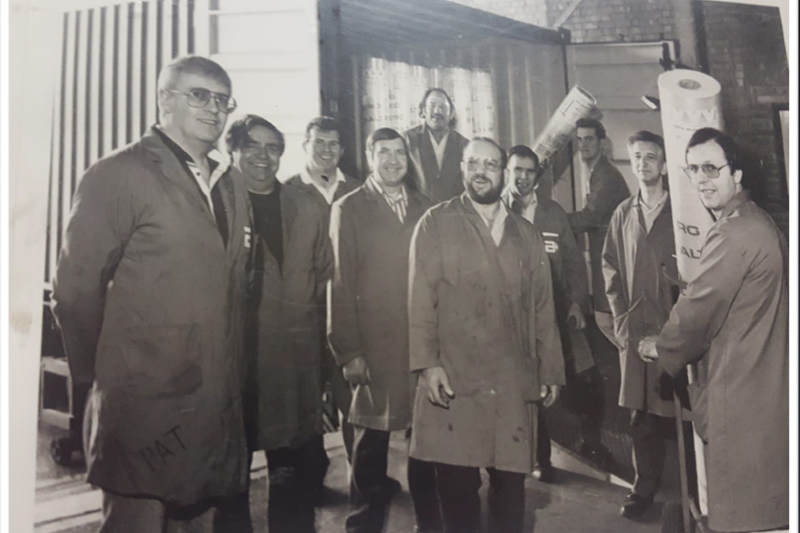 Pep recalls how David Kahn, the then CEO of Altro and now Chairman of the Altro Group, affectionately known throughout the business as DK, would visit the workers in the factory every day to say hello. HR, he remembers, wasn't the 20-odd strong team of people it is today, but just one lady: "and she knew everyone – not just you but your partner, too, and would always ask after them."
"I'd taken the week off to move house with my wife, and I remember standing in the lounge, surrounded by boxes, when there was a knock at the door: my colleague on trimming had gone off sick, and could I go into work please? Well, there was only two of us in the team, so I had to go in. My wife wasn't best pleased! But it was a lovely touch to receive that letter afterwards. I felt really appreciated.
"Although there has never been a day where I woke up and didn't want to go into work, those days at Hertford have to have been my favourite of my time at Altro."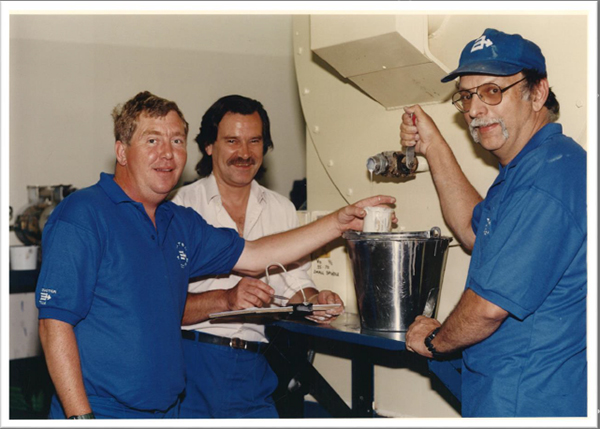 © Altro
By 1992, Pep became a warehouse supervisor and in 2003 started working with our transport kit cutting service. From there, Pep moved into Inventory, and then into the Procurement team. After some time off in 2016, Pep returned to the business in a new role in Health and Safety, as our Health and Safety Administrator, where he still works today.
So, 50 years on – how has Altro changed?
The company may have grown, Pep says, from around 60 people in the UK to around 300 now, but the heart and family feeling remains unchanged. "The care from the company is wonderful. People are either here for a little while, or for life. It's the way everyone at Altro treats you – it really is like a family."
To mark Pep's 50th anniversary with the company, sadly we were unable to meet and celebrate face-to-face but Richard Kahn, CEO of Altro, presented an online celebration commemorating Pep's time at Altro, attended online by colleagues across the company. Pep was also presented with a surprise gift from the company directors, and said: "I was overwhelmed not only by the presentation but also by everybody who sent such kind messages."
"Congratulations, Pep, on such an incredible achievement. Apart from my grandfather and father, no one else has ever worked in the business for 50 years, it shows amazing dedication and I'm very grateful for all of your contribution. Thank you so very much."
This article was originally published by Altro.