Parker's New PVL-B2 Inline Valves Deliver Flexibility for a Wide Range of Industrial Applications
For Parker, the global leader in motion and control technologies, the key requirement when it comes to new product introduction is flexibility.  In an age when customers are demanding more from products, the new PVL-B2 series of inline valves have been designed to meet all machine configurations thus delivering in built flexibility. This is reflected in the fact that the new range can be specified as a standalone valve that can take care of a single isolated cylinder, or the range can be stacked to handle a group of actuators in the same area.  For customers this means that with one valve family, you can operate a number of different applications, reducing the associated costs of storing extra inventory.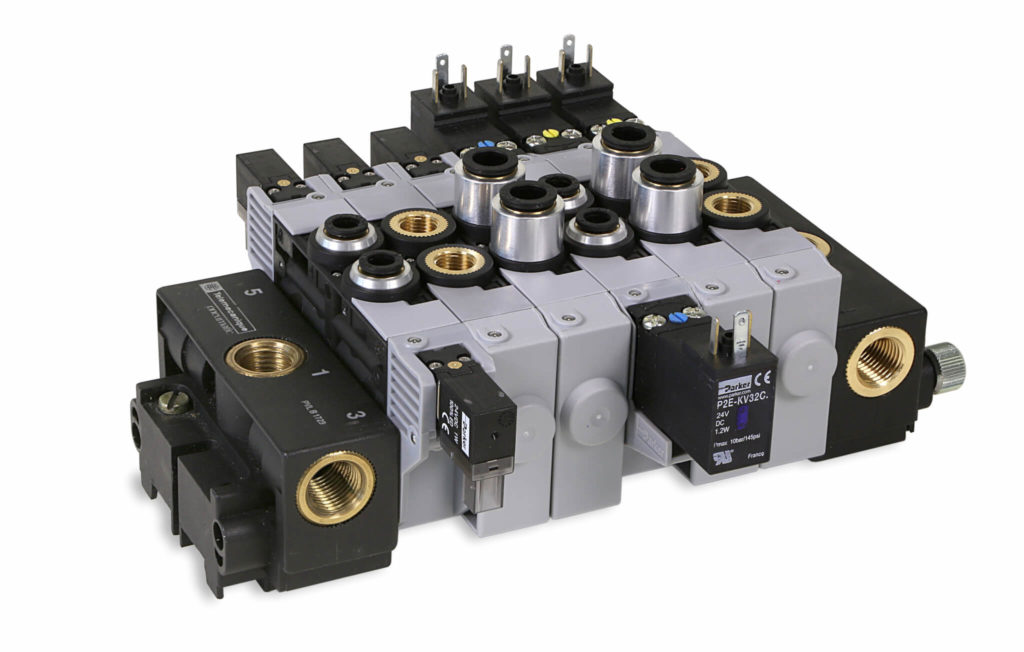 PVL-B2 Inline Valve
The theme of flexibility is further underpinned when it comes to the stackable variants. This allows the assembly of several valves in one stack thus delivering the benefit to the customer of common pressure simply and exhausts. For customers this means that installation can be simplified as only one tube is needed for pressure supply and exhaust thus reducing installation complication and time. Parker's application knowledge stems from a long pedigree of pneumatic application experience.  The PVL-B2 has been designed with this pedigree in mind and offers the customer the solution for both AC and DC voltages, thus making it suitable for a wide range of different industrial projects.
Many customer applications demand compact solutions due to decreased installation space and the PVL-B2 series is ideal from a dimensional point of view as the design has been optimised to minimise the foot print.  This ensures that customers can reduce the size of cabinets that the valve is being installed into.  What's more, for embedded mobile applications the valve is the perfect fit as it has been engineered from lightweight materials to ensure that mobile can truly remain mobile.
Building even further on the philosophy of in built flexibility the new valve series features two electrical pilot options depending on the installed environment.  For non-aggressive environments the valves can be specified with a 10mm 24Vdc IP40 clip connection and for more aggressive installations a 15mm DIN C IP65 connection with multiple voltage options can be selected.
The PVL-B2 series can be stacked and mixed into a stacking valve island, and supply is connected at either a single or dual head/tail set, while two common exhaust galleries are provided. For optimised valve flow, three porting options are available to suit cylinders up to 50 mm bore; either 6 or 8 mm instant tube fittings or G1/8'' threaded pipe. Cylinder speeds in excess of 1 m/s can be achieved using the valves, depending on factors such as cylinder bore and port size, and tubing size.
Electrical connection is made to each solenoid using either a 15 mm, three-pin, 8 mm spacing DIN Form C connector plug or, where weight and size savings are required, by IP40 clip connector – an option that can offer labour savings through quicker assembly. Each stack assembly can handle any combination of single or double solenoid pneumatic valves. Importantly, the new PVL-B2 series offers full compatibility with Parker's original PVL-B and PVL-C series valves. Further information can be found here.