Parker Hannifin to Visit iPro Stadium
25 July: Parker Hannifin's Automation Group is set to visit the iPro Stadium in Derby, UK, on Monday, 25 July, to showcase its wealth of rail industry products and solutions. Parker Hannifin is a world leader in motion and control technologies, making this event one that is sure to attract much attention.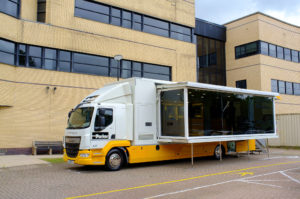 Parker Hannifin's Exhibition  Vehicle
The truck (pictured) with which Parker Hannifin will be attending has travelled more than 35,000 miles (56,000 km) around Europe to date, visiting 4,600 customers in 14 countries. The truck allows Parker Automation to present its cutting-edge technologies and solutions to customers directly, with Parker engineers on board to give demonstrations, provide detailed information and to find solutions to application challenges.
Exhibition Vehicle Features
Parker's vehicle is able to cover a range of applications, such as air preparation and electro-pneumatic control systems. It is able to feature products and solutions from a wide range of technologies using an innovative, hands-on approach that is hugely conducive to rapid learning.
Speaking about the exhibition vehicle, Dave Walker from Parker Hannifin said: "The core concept of the vehicle and tour is to present a mobile exhibition space, very much like a stand that customers might see at an industry trade show. In today's modern, fast-paced environment it is becoming more challenging for customers to find the time needed to visit trade shows. This tour brings the trade show experience and technical support directly to the customer saving them valuable time."
Please click the link to find out more about this upcoming event.