Parker Hannifin Demonstrate Total Solutions Approach at InnoTrans 2016
Parker Hannifin, the global leader in motion and control technologies, demonstrated an expansive range
of technology solutions at this year's InnoTrans rail exhibition in Berlin.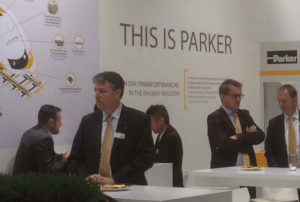 During the show, Parker displayed a wide range of components and solutions from multiple technologies, including pneumatics, electromechanical and fluid control solutions engineered to meet customer requirements and help drive advancements in the rail industry.
With Parker's focus on developing solutions for customers' needs, the exhibition provided the perfect opportunity for their experienced team to meet with customers across Europe and to learn more about their needs and requirements for the future.
InnoTrans 2016 saw Parker concentrate on their total solutions approach, showcasing products found in all areas of the rail vehicle. These included air treatment and filtration equipment for pneumatic systems, control valves and related components designed specifically for rail applications, plus integrated control systems for applications such as pantographs, door mechanisms and couplings. The company's range of rugged hoses and connectors designed and approved specifically for use in rail applications were also on display.
Parker would like to thank all of the visitors who came to their stand for their interest and support. For further information on any of their solutions for the rail industry please contact Parker at [email protected] or visit parker.com/rail
FOR ALL THE LATEST INFORMATION, NEWS, IMAGES, VIDEOS AND DOCUMENTS FROM PARKER, PLEASE CLICK HERE.