Rigid catenary is often used in the underground section of subway lines, and its stability is strong and not easy to break.
However, just as the name suggests, its elasticity is poor, and when the train pantograph slides on it, problems such as arcing are prone to occur, resulting in excessive wear of the contact wire. For this reason, the touch net maintenance personnel need to invest a lot of manpower and material resources to replace them every year.
At present, the detection of urban rail transit catenary mainly relies on two detection methods: manual on-site measurement and catenary detection vehicles. The automated and intelligent products of rigid catenary detection are temporarily blank in the market.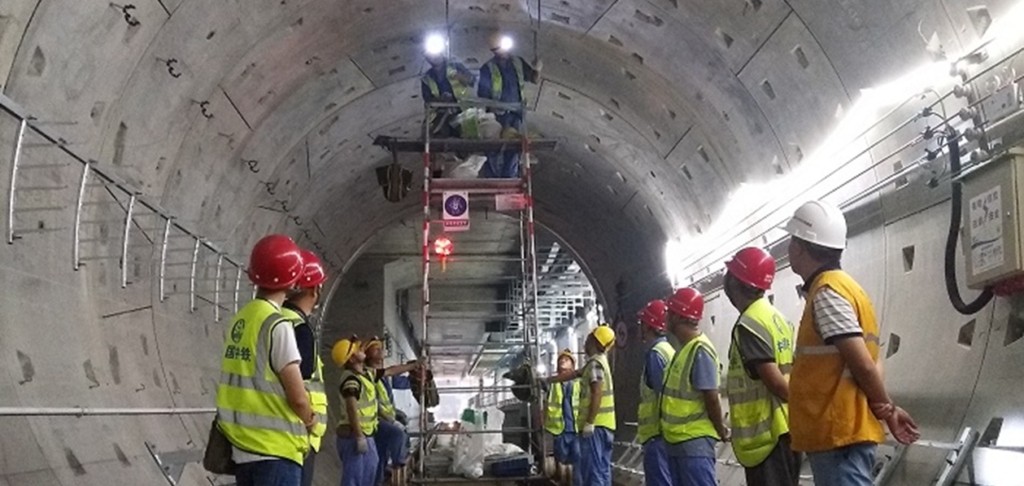 Manual Wear Measuring Device Inspection
Low detection efficiency: a group of 5 people can only detect 1km per night
Low detection accuracy: using vernier calipers for detection, naked eye identification of detection results
High work intensity: the whole line inspection needs to be completed every quarter, and workers need to work continuously for a long time
Vehicle Overhead Contact System Detection Device
Inconvenient to use: The procedure for getting off the track of the engineering vehicle is more complicated, the beginning and end point must be the be the depot
High testing environment requirements: the whole line needs to be occupied by the blocking section during inspection, and other operations cannot be carried out
Low detection accuracy: single-item detection accuracy is low
The intelligent overhead catenary inspection robot developed by Shenhao Tech is placed and fixed on the rigid catenary busbar by manual operation. It can move, detect and analyze autonomously on the busbar to realize unmanned intelligent detection of rigid catenary.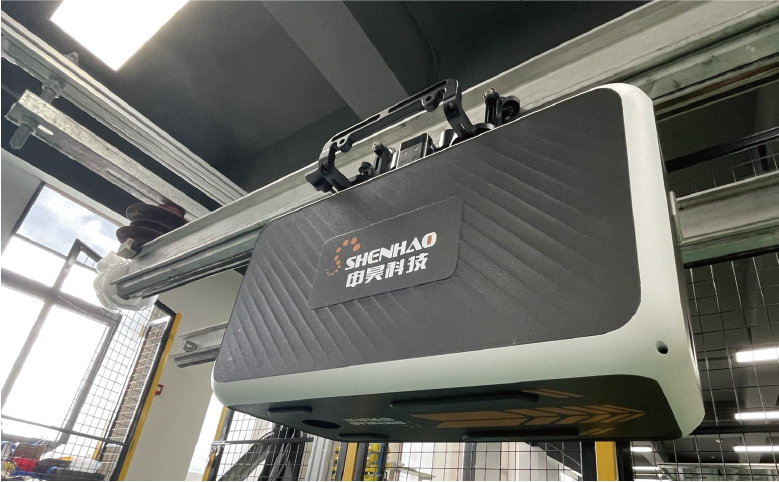 © Shenhao Technology
This robot mainly includes two parts: online motion detection module and offline motion analysis system. The online motion detection module is the direct detection part, and the offline movement analysis mobile includes jacking mechanism, battery, real-time transmission system, etc. The online motion detection module is mounted on the busbar, and the offline motion analysis system is running on the track. The two are connected with power supply by cable.
This robot also fills the blank in the field of independent inspection of rigid catenary in China. The traditional detection methods have problems such as high work intensity, low efficiency and inaccuracy. The emergence of rigid catenary intelligent robots can replace and assist manual work, simplify the inspection process and improve the inspection accuracy.
The main function of Shenhao catenary inspection robot includes:
Contact wire wear detection
Suspension parts inspection
Intelligent recognition
Automatic track change
Defect point location and alarm
Mileage positioning
This article was originally published by Shenhao Robotics.