Opening of Abuja-Kaduna Railway in Nigeria
Nigeria's Abuja-Kaduna Railway was opened at a ceremony attended by almost 1000 people, including Nigeria's President Buhari, the House and Senate Speaker, Minister of Federal Capital Territory, Transport Minister, Environment Minister, Foreign Minister, local traditional leaders and representatives from the Nigerian Railway Corporation, the Chinese Embassy in Nigeria and China Civil Engineering Construction Nigeria Corporation.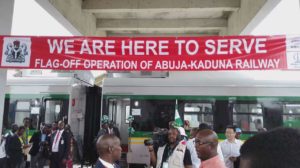 The Abuja-Kaduna Railway is the first phase of Nigeria's modern railway project. It is 186km long, has nine stations, and operates trains at a maximum speed of 150km/h. The signalling system was provided by Chinese company Casco, who overcame environmental challenges to develop a VPI computer interlocking system for all stations on the network.
The railway will cut the travel time from Abuja to Kaduna from three hours to just one. This is expected to create a surge in growth in the local and national economy. At the opening ceremony, President Buhari said that the Abuja-Kaduna Railway will be an essential transport link between Federal Capital Territory and Kaduna State, as well as creating an economic corridor for industry, agriculture and manpower.
The construction of the railway was undertaken by China Civil Engineering & Construction Company (CCECC). It employed 4000 people from 2011 to 2014. 30 railway bridges and five box bridges were constructed for the line.
Nigeria boasts the largest economy in Africa, which was created with an outdated railway. Prior to the Abuja-Kaduna Railway project, the railway network in the country was only 3,500km long, most of which was on narrow gauge, single track railway constructed during the colonial period.
The Abuja-Kaduna section is the first phase in what will become a 1,315km long railway, bisecting the country from north to south. It will serve as a showcase for Chinese railway product exports. It will also benefit citizens of the country, and create greater economic development for countries on the West African coast.