Nomad Digital Partners with Incremental Solutions on Innovation Solution – TRACO (TRAnsition COnnectivity) Providing End to End Freight Location Tracking
Nomad Digital recently partnered with Incremental Solutions on an Innovate UK First of a Kind (FOAK) project to develop and deliver a freight tracking solution namely: TRACO.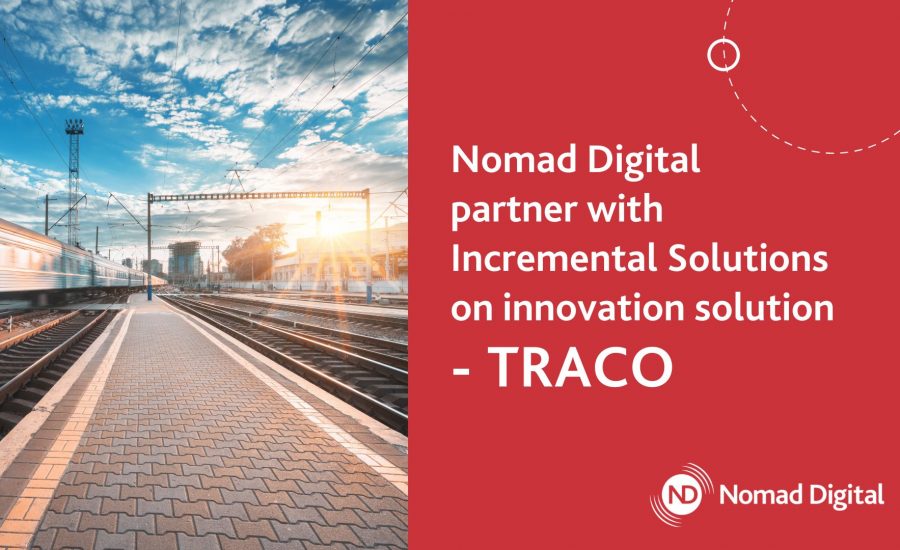 TRACO (TRAnsition COnnectivity for road and rail freight) is a freight location tracking solution which optimises intermodal activity at transport terminals, efficiently connecting rail and road freight journeys.
Utilising Nomad's industry leading robust road and rail connectivity solutions, TRACO offers high availability and high frequency GNSS positioning with equipment installed on rail and road freight vehicles respectively.
Within the freight depots, low cost, highly accurate NimbeLink GNSS devices were provided by AirGain to track the transition of freight containers from road to rail, providing invaluable insights into the potential dwell times and bottlenecks. These devices complemented the vehicle devices by preventing the containers from disappearing once they were removed from the respective road and rail vehicles.
Due to the typical practice of freight trains spending idle time in depots and sidings, they are often situated in 'blind spots' that are not visible on the network. The TRACO prototyped solution was a first of its kind within the rail freight industry to track containers anywhere, in real-time. This enables everyone in the logistical supply chain at any stage to be aware of its progress, respond to any delays or disruption and predict the train's arrival at its end destination.
Additionally, by further tracking freight across onward modal transitions such as road haulage, complete end-to-end freight journeys can be tracked creating full visibility and a more reliable, efficient, and greener railway.
"The modal shift of transporting freight from road to rail is something we are proud to support as it contributes towards a more sustainable future. 'TRACO' will give all parties in the supply chain access to essential and credible location data at any given time. This will reduce paper-based systems and provide the tools to better plan, monitor and deliver goods to customers around the UK and we can't wait to get started."
"To have various levels of equipment integrated in the TRACO overall solution right from low cost to rail grade all reporting into the same platform is one of the elements that made this project unique and provided extremely valuable data to help optimise freight distribution. At a time when the transport industry is heavily demanding innovation to find more efficient ways of working, a fully transparent freight tracking solution that utilises robust connectivity can drive everyone towards new smarter ways of working together."
For more information about the TRACO (TRAnsition COnnectivity for road and rail freight) solution, contact the Nomad Digital team at [email protected] or visit nomad-digital.com.
Alternatively, if you are attending InnoTrans, you can meet the team in person at the Nomad Digital Stand in Hall 4.1, stand 260.
This article was originally published by Nomad Digital.