Rolling Stock Manufacturer Newag to Supply 3 Dragon 2 Locomotives to PKP Cargo
Polish rolling stock manufacturer Newag S.A. has announced it has signed a contract with PKP Cargo to supply three Dragon 2 locomotives to the company. The Minister of Infrastructure, Andrzej Adamczyk, attended the signing.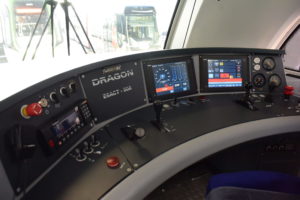 These units will be the first six-axle electric locomotives in Europe to be fully compliant with the Technical Specifications for Interoperability (TSI 2014), equipped with ETCS level 2.
Newag says that Dragon 2 locomotives use the latest technologies and they offer high levels of comfort for the driver. Dragon 2 locomotives also have the advantage of very high tractive force. Combined with the large mass of the locomotive, an effective anti-slip system and drive for each axle, it means these locomotives can pull very heavy cargo.
Andrzej Adamczyk, Minister of Infrastructure, said:
"I am very happy to co-operate with Newag. It is Polish technical thought, Polish engineers are carrying out projects at the highest level. Thank you, Mr President, for signing up to the Luxtorpeda 2.0 programme. We see its effects in the form of one of the most modern locomotives, equipped with the latest power engineering solutions, that the competition will envy. Equipped with devices that work with traffic control systems, railway safety system (ETCS). It is time for the future. Newag is part of the production of future rail vehicles, this one for the year, for two, for ten or fifteen or twenty years."
Czesław Warsewicz, President of PKP Cargo, said:
"Today's contract for the purchase of [three] electric locomotives Dragon 2 is part of our development strategy, it is a milestone in order to modernise our fleet, because it needs a market, that's what customers need."
Zbigniew Konieczek, President of Newag S.A., said:
"After more than thirty years this is the first six-axle locomotive purchased by the national carrier PKP Cargo. I am proud that the Dragon 2 locomotive will go to PKP Cargo, but in addition to these locomotives we also produce EZT, which run virtually all over Poland. We can see our metro vehicles in Sofia, in Italy, our vehicles also run in Sicily. We are working intensively on a dual-track locomotive, one that will allow you to move around Poland – where the traction network is and where it is not."