Newag Impuls 45WE for Polish Province of Pomerania Ready
The technical approval of the 5-car Newag Impuls type 45WE is complete. The marshal for the province of Pomerania, Ryszard Świlski, and the Director of the Transport Department, Eugeniusz Manikowski, visited the Newag S.A. headquarters in Nowy Sacz to mark the occasion. Train drivers who are currently undergoing training for the Newag Impuls 45WE also attended the meeting.
The first two Impuls trains in this order are set to enter service in Pomerania in December.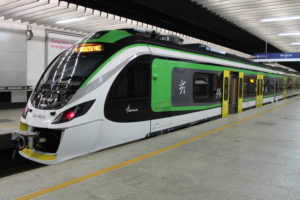 Newag Impuls 45WE Specifications
These electric trains (EMUs) are low-floor vehicles. Thanks to their accessibility-friendly design passengers with reduced mobility can use them. They feature ramps and wide gangways. In addition, there is space to park wheelchairs and prams. Beneficially for active travellers each train has spaces for up to 20 bicycles. The Newag Impuls 45WE has capacity for 500 passengers.
These Impuls trains also come with air-conditioning, a modern passenger information system, ticket machines and ticket validators. Furthermore, it is possible to walk through the entire length of the train.
Pomeranian Tender
Newag S.A. was the only company to bid for the tender issued by the Pomeranian marshal's office. The contract then awarded to Newag is for five 5-car electric multiple units. The contact also includes an option for a further five vehicles. The province of Pomerania has now taken advantage of this option. That is to say it has ordered an additional four Newag Impuls electric multiple units.
Read: Rolling Stock Manufacturer Newag to Supply 3 Dragon 2 Locomotives to PKP Cargo