New! Introducing Service Delivery Reporting Tools
Transportation data is the key to service reliability, so why do so many CAD/AVL and APC systems make it so hard to export raw transport data? With no simple way to aggregate raw data, agencies are left with data blind spots, untracked outcomes, and fewer ways to collaborate.
Starting today, we're excited to change this with our new Service Delivery Reporting Tools, a series of datasets designed to make transport data, especially around missed service, more accessible than ever.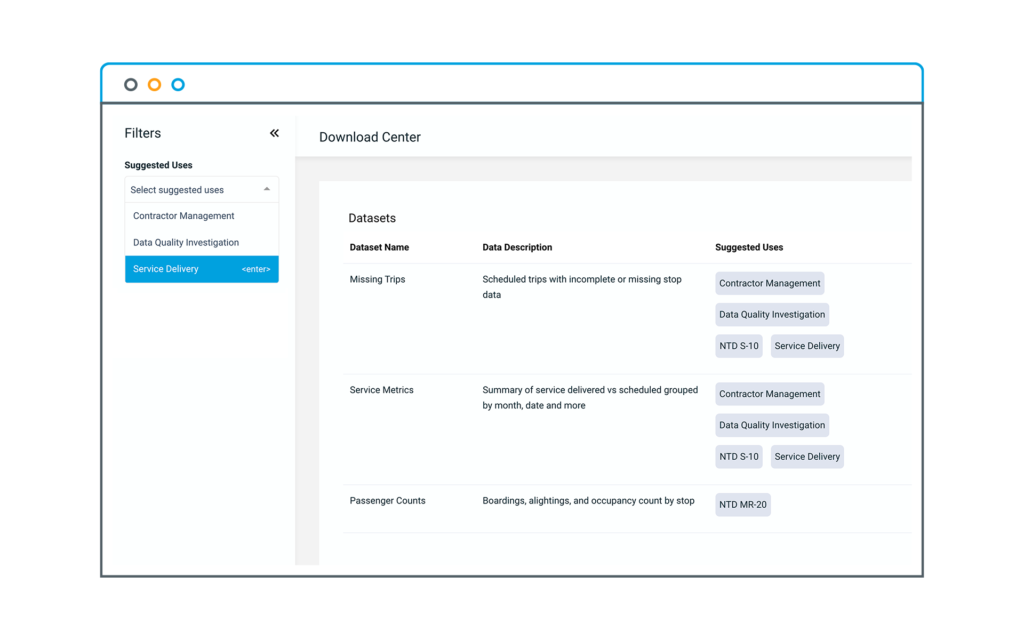 Service Delivery Reporting Tools is made up of three easy-to-use .csv exports:
Missing Trips Dataset: A granular picture of missed service, including number of observed stops, observed running distance and hours, and several other important metrics related to missing trips
Passenger Count Dataset: A ridership dataset including number of boardings per stop (recorded by Swiftly's APC Connector integration) and distance to next stop
Service Metrics Dataset: A top-line summary of scheduled service versus delivered service, including percentage of all trips that were complete, scheduled and observed run-times, and several other important top-level service metrics
What makes these data exports so unique is their focus on missed service. To understand service quality and reliability, it's equally important to analyze the data you capture and the data you don't capture. These reports take Swiftly's best-in-class metrics and apply them to the realm of missing data for the first time.
And like all Swiftly products, we designed Service Delivery Reports to be straightforward and easy to use. All Service Delivery datasets are downloadable in Swiftly's Download Center in a simple .csv file format, allowing for no-fuss uploads into Excel or other data processing software. All datasets are also fully customizable by route and time period. This level of flexibility opens up key data to all relevant stakeholders, creating a common data language for better cross-department collaboration.
Manage Today's Biggest Challenges with Service Delivery Reporting Tools
We built Service Delivery Reporting Tools to help transport teams tackle some of today's biggest operational challenges.
Missed service, for example, continues to be a major issue affecting the passenger experience for most agencies. CAD/AVL systems have traditionally made it very difficult, or impossible, to aggregate missed service data; now with Service Delivery Reports, agency staff can simply download the Missed Trips Dataset and access stop- and route-level data to compare scheduled service, operated service, and missed service.
Ad hoc changes to service, like trip cancellations and stop closures, have also become much more common over the last several years. The impacts of these changes aren't always clear without the proper data available. Service Delivery Reporting Tools provide the raw data agencies need to analyze how last-minute changes, including those implemented in Swiftly's Service Adjustments product, affect run-times, missed trips, and ridership.
The exports in Service Delivery Reporting Tools are particularly useful for agencies that contract out service to third-party operators. The Missing Trips Dataset and Service Metrics Dataset give agencies a way to spur data-driven conversations with contractors about missed service. When these conversations are grounded in data, collaboration becomes much more concrete and outcome-oriented.
Ready to try it out? Our Service Delivery Reporting Tools are now available to all Swiftly users with access to the On-Time Performance product. Reach out for a demo!
This article was originally published by Swiftly.